Guitar - Pinewood Derby Car Design Plan
$4.95 each
Write a winning song as you race to the finish line
---
Get this immediately! Instant Download
No Shipping Cost for this item
"My Son LOVES playing guitar. This plan saved the day and put a huge smile on his face. The step by step instructions were easy to follow and loads of great information. THANK YOU!"
The Guitar Car is tuned and ready to rock! Complete pinewood derby car design plan with step-by-step 3D images so you can't make a mistake.
Complete pinewood derby design plan with full instructions, 3D AutoCAD graphics of the car showing each cut, weight placement, hints, building tips, tool list and car cut-out templates to use as a cutting guide.
We even show you your car in 6 different color schemes.
Pinewood Pro 3D pinewood derby car designs are the best on the market, guaranteed!
You can build this car! Our car design plans are the best on the market, guaranteed! We show you how with simple step-by-step clear, 3D images.
We show you every cut so you can't make a mistake...
Plan includes cut-out car design template, building hints, tips, weight placement for speed, six painting schemes, tools list, links for help and everything else you need.
Below are some sample pages from one of our car design plans: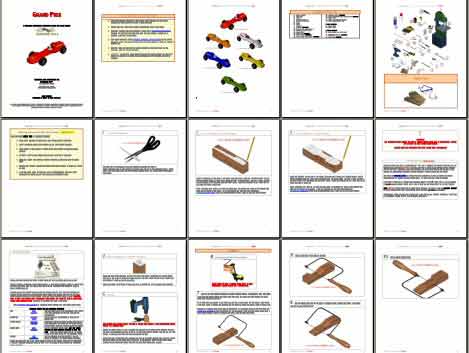 Guitar Car
Turned out great. Love it.
shirley c
21 Mar 2014
Rock On!
Although we didn't win this year we did get the most "That's pretty cools".
Dan
22 Apr 2011
Guitar
This car really is a wonderful design for a guitar. However, the top part of the design takes away from the overall look of a guitar. My son is not that artistic so we were not able to draw a top of a guitar that well. But, a really talented child could have done it. We used it for the Grand Prix. My son got 2nd place for speed. Our program does not give out 2 trophies. Once you get one they give another child for design. If he did not get it for speed, I think he would have gotten for design.
God's c
02 Apr 2011
Fun Project
This car design is really unique. The car looks great. Scaling of the templates does not work with Acrobat 10, probably an issue with my printer settings as stated. Hint
Gumby56
19 Mar 2011
Great design!
My son chose this design for his derby car. My husband insisted on a 3-D look, so it wasn't flat on top. It turned out fine, though, and my son won third prize for design.
wiskyrapids
23 Apr 2010
Guitar Car
This was my sons first Pinewood derby for scouts and he got 2nd in race and 1st for best of show. We had a few issues as the nose was not 3/4" wide like the rules said it had to be so we had to cut some off at race. On the template it was longer than the wood so we had to cut the paper, not a big deal. Over all VERY happy and would recommend to others.
Psycho
15 Mar 2010
Customers who purchased this product also purchased: