Pencil - INSTANT DOWNLOAD - pinewood derby car design plan
Pencil - INSTANT DOWNLOAD - pinewood derby car design plan
$4.95 each
Rocket to the finish line!
---
Get this immediately! Instant Download
No Shipping Cost for this item
"This was a great purchase. The plans were easy to follow. We were able to make our car with a coping saw, drill & sandpaper. And paint!"
The Pencil pinewood derby car design draws a straight line to the finish line!

Complete pinewood derby design plan with full instructions, 3D AutoCAD images showing each cut on the car, weight placement, hints, building tips, tool list and printable cut-out template patterns to use as a blueprint cutting guide. Each step is clearly illustrated so you can't make a mistake.

We even show you your car rotating 360 degrees so you can view it from all angles.

Pinewood Pro 3D derby car designs are the best on the market, guaranteed!
You can build this car! Our car design plans are the best on the market, guaranteed! We show you how with simple step-by-step clear, 3D images.
We show you every cut so you can't make a mistake...
Plan includes cut-out car design template, building hints, tips, weight placement for speed, six painting schemes, tools list, links for help and everything else you need.
Below are some sample pages from one of our car design plans: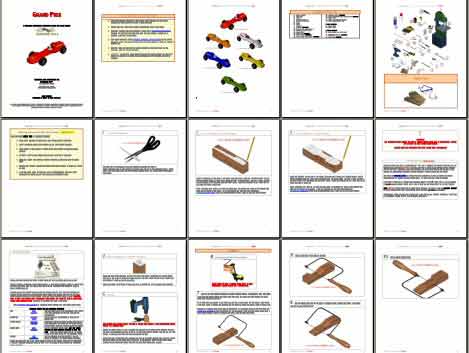 Pinewood Derby Plan
This is a fine project for a Cub Scout
Jay
31 Jan 2014
Pencil Car
This looks daunting but I did this with just a copping saw, a little bit of a Dremmel, and sand paper. Follow the instructions and you are totally fine. Pinewood Pro makes it easy.
Try this C
24 Jan 2014
GOOD OVERALL
Plans are very good overall. Shows how to make Pencil car in detail and comes with many pictures. But I think the pictures towards the end should not show the car with a pointed front. You cannot use a pointed front end on your car and race it. If you did, it could not rest on the starting peg correctly. It states this in RED in the instructions but the pictures still show a pointed front. I think it should show how the front should be so we can have an idea of how to properly shape the car.
magyver
26 Mar 2016
Looks great - structurally challenging
Before putting the wheels on, I would have given this design 5 stars. It wasn't that hard to saw and was easy for my 8 year old to paint. It looks like a million bucks and he got a ton of compliments on it. It's light because we removed so much wood so we had to put a ton of weights on the bottom. The weights are so wide that they're wider than the bottom and show a lot. The wheels are next to impossible to put on. They're so far from the actual base that only the tips of the axles are in the car. They're crazy glued in there right now but they are not secure at all and I'm just praying they stay in during the actual race.
Dana
26 Jan 2013
https://s3.us-east-2.amazonaws.com/pinewoodanimations/pencil-pinewood-derby-car-design.gif
Customers who purchased this product also purchased: