Spitfire - Pinewood Derby Car Design Plan
$4.95 each
The Spitfire blazes a trail of smoke and flames as it races to the finish line...first.
---
Get this immediately! Instant Download
No Shipping Cost for this item
"Easy to download and easy to follow step by step directions."
Blaze your way to the finish line! Full step-by-step illustrated car design plan with printable cut-out template patterns.
You can build this car!
Complete pinewood derby design plan with full instructions, 3D AutoCAD graphics of the car showing each cut, weight placement, hints, building tips, tool list and car cut-out templates to use as a cutting guide.
Includes the cut-out template patterns of car design, flames and stars and stripes patterns.
We even show you your car in 6 different colors.
Pinewood Pro 3D derby car designs are the best on the market, guaranteed.
You can build this car! Our car design plans are the best on the market, guaranteed! We show you how with simple step-by-step clear, 3D images.
We show you every cut so you can't make a mistake...
Plan includes cut-out car design template, building hints, tips, weight placement for speed, six painting schemes, tools list, links for help and everything else you need.
Below are some sample pages from one of our car design plans: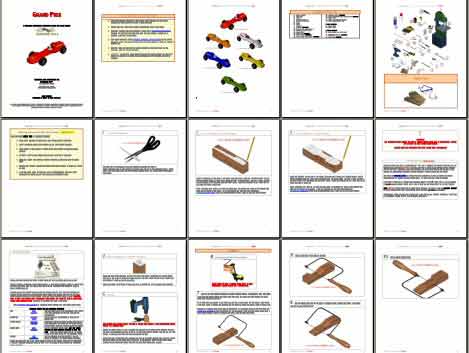 Download the Spitfire Template direct to your computer in seconds.
Our 3D derby car designs are the best on the market, guaranteed!
Be aware that this car winds up being very light (around 3 oz.) so you'll want to add some weights to maximize speed on the track.
Jon L
19 Feb 2019
Surprised Us All
This car delivered as promised and surprised us all. This was my 9 year old's second Pinewood Derby race and we had a fun time putting this one together. He won all his races last Thursday! We did not go into the race thinking he'd win but after he blazed his way past all the other racers on that first race, I thought to myself, "Wow!" Thank you Pinewood Pro.
Jeremiah
08 Mar 2013
Customers who purchased this product also purchased: