Fire Engine Truck - Pinewood Derby Car Design
$4.95 each
Hose the competition with your Fire-engine car
---
Get this immediately! Instant Download
No Shipping Cost for this item
"My son's father is a fireman and his hero so he wanted to make a fire truck. This plan nailed it on the head and took first place! My son and husband will have memories for a lifetime."
Build this hot Fire Engine pinewood derby car with our step-by-step plan! Burn the competition all the way to the finish line!
Complete pinewood derby design plan with full instructions, 3D AutoCAD graphics of the car showing each cut, weight placement, hints, building tips, tool list and car cut-out templates to use as a cutting guide.
Plus you can watch your car rotate around with a 360 degree animation so you can view it from all angles!
Pinewood Pro 3D Pinewood Derby car designs are the best on the market, guaranteed!
You can build this car! Our car design plans are the best on the market, guaranteed! We show you how with simple step-by-step clear, 3D images.
We show you every cut so you can't make a mistake...
Plan includes cut-out car design template, building hints, tips, weight placement for speed, six painting schemes, tools list, links for help and everything else you need.
Below are some sample pages from one of our car design plans: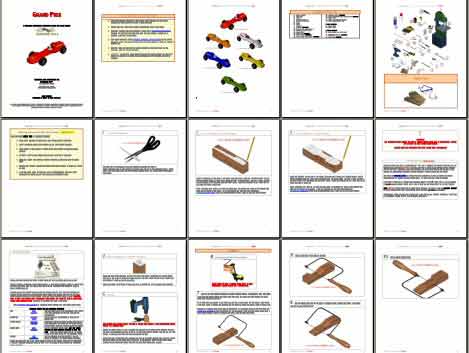 I was disappointed that there was a max number of times to view the download. If I had know. I would have printed out more pages.
Sara S
27 Jan 2020
Simple enough plans to follow. Pretty sure my son kind of got off track though.
Steven C
15 Feb 2023
Easy to use
Samuel M
18 Apr 2021
Customers who purchased this product also purchased: