Build and Race LEGO® Derby Cars
Use PRO Brick Wheels and Zinc Brick Weights
How to build a fast LEGO Derby Car using the PRO Brick Wheel Assembly with nickel plated axles and Zinc Brick weights to race cars down a pinewood derby track
About the Author: Joe Gargiulo, Pinewood Pro Founder

LEGO Derby is a new, cool way to race LEGO cars!

Build a car made from Official LEGO® parts and race it down a pinewood derby track.

You get all the fun of pinewood derby racing without the extensive time it takes to make a car from wood.

Just snap together LEGO parts, right?


Not so fast!

LEGO race cars on plastic track
There are a few problems to solve.
Commercial LEGO wheels and axles do not work on a pinewood derby track.
You need the perfect wheel spacing so your car fits the lanes on a pinewood derby track.
You need the correct track clearance.
You want your LEGO Race Car to be fast!


LEGO parts are not made for racing like pinewood derby car parts, so a car built with LEGO parts will be slow. The plastic LEGO axles are slow. The rubber LEGO wheels are slow.

Lastly, if you've raced pinewood derby cars, you know that you need to add weight to your car to reach maximum velocity.


So, how do you add weight to a car built with LEGO parts?
How do you make a LEGO car that is fast like a pinewood derby car?
How can you build a LEGO race car that fits on a pinewood derby track?
The secret is Pinewood Pro's new PRO Brick Wheel Assembly and LEGO Chassis engineered for racing LEGO derby cars:
Perfect wheel spacing - so wheels don't bind or wobble
Perfect track clearance - so your car doesn't bind on the center guide rail
Ultra-Lite Wheel/Axle assembly that is only .11oz - means your car will have a fast start and fast finish
Super-fast Nickel Plated Speed Axles - we appied our proven pinewood derby winning axles to LEGO Derby Car racing
...all of these feartures were designed for speed so your LEGO race car is as fast as a pinewood derby car.
To add weight, snap on a Zinc Brick. (See the silver colored Zinc Bricks on the back of the LEGO Derby cars in the image above.)
Pinewood Pro used their engineering skills and 20+ years of pinewood derby racing expertise to design the perfect parts to bring the fun of pinewood derby car racing to LEGO Derby car racing!


LEGO derby cars on Pinewood Derby track
PRO Brick Wheel Assembly - PRO LEGO Derby Chassis
The PRO Brick is a custom designed part that supports a Speed Axle and custom Ultra-Lite Wheel designed for speed. The PRO Brick, Speed Axle and Ultra-Lite Wheel are pre-assembled to give the perfect pinewood derby track clearance and the Wheel is preset with the perfect gap to minimize wobble and friction.
Each PRO Wheel Assembly weighs only .11oz (3.15g) so your car starts fast, accelerates fast and allows you to place more weight on the car body giving your car more inertia through to the finish line. Individual wheel assemblies gives more flexibility to move wheels. More flexibility means more creativity.
Just snap the PRO Brick Wheel Assembly into any LEGO part and you're off to the races.
We designed these parts for speed so your your LEGO Derby Car will be fast.

A fast car needs fast wheels and fast axles . The PRO Derby Wheel is Ultra Light, yet sturdy. The axles are nickle-plated comparable to our best pinewood derby speed axle. This new Wheel-Axle combination will make your LEGO Derby Car zoom down the track comparable to the fastest pinewood derby cars.

Lastly, you need weight, since your car flys down the track from the force of gravity. Just like pinewood derby cars, you want your LEGO Derby Car to have the maxiumum weight allowed in your race rules so your car has the inertia to speed to the finish line.

The easiest way to add weight to your car is with our new Derby Zinc Brick. Just snap this zinc weight anywhere on your car just like any other LEGO part. Each brick weighs .44oz. You can easily move this weight to adjust the center of gravity for optimal performance.

For more speed tips, the Winning Pinewoood Derby Secrets also applies to LEGO Derby Car racing.
How to build a LEGO Pinewood Derby Car
If you want to build a LEGO Pinewood Derby Car, you need to build your car on top of the "pine wood" derby wooden block that comes with your official pinewood derby kit. In addition, you need to use the axles and wheels that come with your official kit.
All pinewood derby races require using the parts that come with your car kit. Your kit could be the BSA kit for Cub Scouts or the Awana Grand Prix car kit or other similar pinewood derby kit.
Read our free Guide How to Build a LEGO Pinewood Derby Car in 6 Steps that tells you how to build an official pinewood derby car base and adding LEGO parts.
Running a LEGO Derby race for your Pack, Summer Camp, School or Church?
Call about Group Discounts 203-400-3713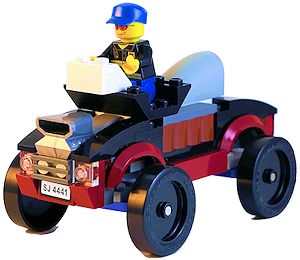 LEGO Derby PRO Brick Wheel Assembly
or Zinc Brick Weights
Shop Now
Race LEGO Cars for Cub Scout Recruitment
LEGO car racing is great idea for Cub Scout Recruitement night. It's fast, it's fun and kids get a feel for the excitement of a fun scouting event building and racing cars. Best of all, adults and siblings can build and race cars too.


Race LEGO Cars at Summer Camp
Run a LEGO derby car race to teach Engineering and the Physics of motion for a STEM summer camp.
I taught AND demonstrated the principles of Friction, Inertia, Center of Gravity and Velocity in a fun way.

STEM Summer Camp - using LEGO Derby Car Racing to teach physics, while having fun.
How to run a LEGO Derby Race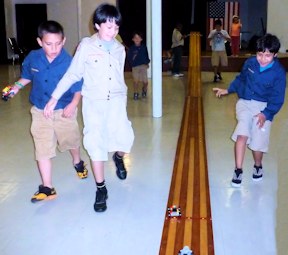 Read our new guide:
How to run a LEGO Derby Car Race
Call Pinewood Pro 203-400-3713 to discuss building and racing cars built with LEGO parts, race awards and race rules.
LEGO is a trademark of the LEGO Group, which does not authorize, sponsor or endorse this site in any way.
We are proud to be the inventors of the PRO Brick Wheel Assembly (patent pending) and Zinc Brick. These parts are the best solution for racing LEGO derby cars down a pinewood derby track because we incorporate over 15 years of car racing into these parts so your LEGO car will be the fastest. After market wheels are heavy and therefor slow. As engineers, we designed and track tested our with ultra-lite wheels and nickel plated axles, and built them into our PRO Brick LEGO wheel assembly and PRO LEGO Derby Chassis to give you the best LEGO derby car racing solution. Pinewood Pro has helped racers for over 20 years. But don't take OUR word for it...read what our customers say about Pinewood Pro.
Please take a moment to read reviews from our customers...
PINEWOOD PRO
Winning Tips and Hints
Pinewood Derby
Tips & Hints
If you are using 3/8" round weights, drill your 3/8" weight holes before cutting out the rest of the car because it is easier to hold the full block. Always use a clamp to hold your block before drilling or cutting. Safety First!
Pinewood Derby
Wheels Tip
Lighter wheels turn easier (they require less inertia). Lighten your wheels, as much as your Rules allow, which will give you a fast start out of the gate and faster speed down the track.
Pinewood Derby
Winning Hint
Winning Pinewood Derby Secrets contains all the tips you need to win your race. Updated annually with the latest tips and speed products, our book has proven results with 1000's of winners... but don't take our word for it! Read over 90 Customer Reviews and check out our Winners Gallery!