Minecraft - Pinewood Derby Car Design Plan
$4.95 each
Designed to layback and cruise to the finish.
---
Get this immediately! Instant Download
No Shipping Cost for this item
"My son is a huge Minecraft fan. This downloadable car plan was the ticket to making him smile ear to ear!"
Let your creativity outshine the competition with the Minecraft pinewood derby car design.

This is an easy car to build!

This design plan shows each cut step-by-step with 3D rendered images to help you build your car.

We show you weight placement, give you speed and building hints, tells you which tools you'll need and includes car cut-out templates for use as a cutting guide.

We'll even show you your Minecraft Car rotating 360 degrees so you can view it from all angles. We also show your in 6 different colors to help you with a cool color scheme.

Pinewood Pro's 3D rendered derby car designs are the best on the market, guaranteed.

You can build this car! Our car design plans are the best on the market, guaranteed! We show you how with simple step-by-step clear, 3D images.
We show you every cut so you can't make a mistake...
Plan includes cut-out car design template, building hints, tips, weight placement for speed, six painting schemes, tools list, links for help and everything else you need.
Below are some sample pages from one of our car design plans: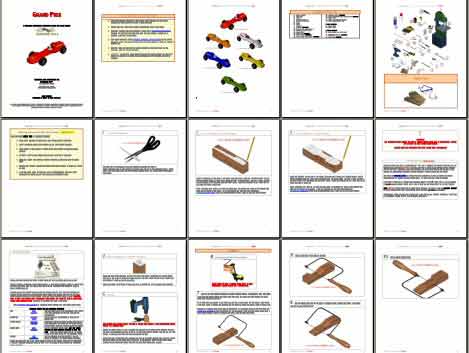 My son really enjoyed this design.
William H
04 Feb 2020
the instructions were easy to follow and my son's car won two awards. 2nd in time and 3rd in best in show. Thanks helping a procrastinating dad build a cool car for his son!
Shad T
31 Jan 2020
Great buy!
Awesome, highly detailed instructions!
Ryan F
28 Jan 2020
Easy to follow instructions
CB
17 Jan 2020
My son loved it!!!
Craig B
24 Jun 2019
For 5 bucks this was a great template to use to make Steve from minecraft.
Diana S
16 Feb 2019
The template was accurate.
Dana A
04 Feb 2019
5 stars
excellent design! My daughter won 4th place
Joanne S
23 Jan 2019
Easy to download, still building car
Charala O
20 Jan 2019
Cool Design
My son loved the design and his car did pretty well at the derby!
Samantha B
15 Feb 2022
It was missing the rear view to see where to put the holes in the back. I emailed the company and they send me the back pattern. However, I didn't get it until after the derby so we had to wing it. And out holes ended up not being even
A Daniels
17 Feb 2022
Easy to follow directions
Eric F
05 Feb 2022
Good design, but needs to be QCed. If I would have drilled for the weights where the design laid them out, cutting out the shape would have caused major issues exposing a good portion of the holes from the side.
Aaron M
10 May 2021
Clsear plan with lots of details and tips.
Brian L
07 Apr 2021
Easy instruction
Nicholas L
29 Mar 2021
Exactly what I needed. Would buy from again!
David S
14 Mar 2021
Good way of getting the kids involved
Son likes Minecraft. These instructions helped get him more involved with the build
Thomas N
07 Mar 2021
Customers who purchased this product also purchased: