Pinewood Derby PRO Tools
Derby tools to build your car and make it fast.

Pinewood Derby PRO Tools
Go PRO! Go Blue!
...with Pinewood Pro's Blue PRO Tools.
Specialized Pinewood Derby PRO Tools to help you build a fast car.
PRO Driller™ Tool
PRO Driller™ Four Ways to Increase Speed!
Drill perfectly straight and square axle holes or slots. Straight cars don't hit the center rail (or hit the side rails for guide-less tracks). Extra energy goes to increase your car's speed.
Drill a raised wheel hole. It takes less energy to turn 3 wheels. Extra energy goes to speed.
Drill 2.5 degree angled axle holes to cant your wheels. Canted wheels migrate toward the axle head where there is less friction. Less friction means more speed.
Create an extended wheelbase. Your car has more stability, which means more speed.
Adjustable tool with exclusive View Port, for any pinewood derby car block; BSA, PineCar, AWANA, Royal Rangers, etc.
Includes perfectly sized 2.2mm drill bit and instructions.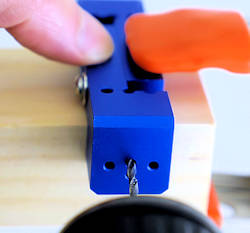 PRO Axle Hole Driller Instructions
PRO Driller Tool
PRO Axle Guide
The PRO Axle Guide Tool helps you to quickly and easily insert axles into the axle slot in your pinewood derby block. This tool will improve the speed of your car by ensuring accurate mounting of axles in the axle slot:

Easy Axle Insertion - Ensures accurate mounting of axles to improve alignment. Accurate alignment is critical for top speed.
Perfect Wheel-to-Body Spacing - The built in Spacer gives you the perfect gap between the wheel hub and car body. The proper gap minimizes car wobble and reduces excess contact between the wheel hub and car body.
Reduced Risk of Block Damage - During the insertion process the PRO Axle Guide provides support to the wood around the axle slot, minimizing the risk cracking or damaging the block.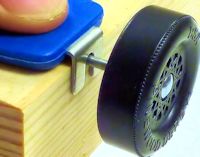 PRO Axle Guide Tool with axle inserted into pinewood derby block.


PRO Axle Guide Tool
PRO Axle Puller and Inserter Tool
Insert and Remove Axles Without Damage
How do you cleanly insert axles into those tight slots?
How to remove stuck axles without damaging your wheels?
One end of this handy Tool easily glides your axles into the slot.
The other end is used to easily grip the axle head and gently pull it out.
The Axle Inserter and Puller Tool is essential if you are using Ultra-Lite wheels which can be damaged when pulling them in and out.
PRO Axle Puller
Wheel Spacer Gauge
If your wheels are too tight, your car slows dramatically. If they are too loose, your car wobbles, also slowing your car down.
The Wheel Spacer Tool is a stainless steel "feeler gauge" that sets the exact spacing between your wheel hub and car body so your car runs at optimal speed.
Just slide the Wheel Spacer over your axle and push the axle in until it is snug against the Wheel Spacer. Remove, and voila, perfect spacing.
The Wheel Spacer tool makes this critical adjustment fast, easy and perfect, every time.
Consider our complementary tool, the Axle Puller and Inserter, to insert your axles easily. One end is used to insert and the other end is used to remove axles without damaging your wheels (or your fingers!).
PRO Wheel Spacer Tool
Axle Press Tool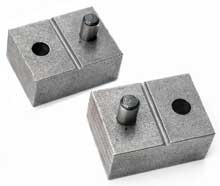 We no longer carry the Axle Press tool, which involves putting your axle inside this iron bock and hitting the block with a hammer.

The Axle Press tool is also used in conjunction with the Rail Rider Tool to bend axles to 1.5 or 2.5 degrees.

Instead of these two tools, we offer you a significant savings with our pre-bent 1.5 and 2.5 degree BSA polished axles (see products below). We also offer both 1.5 and 2.5 degree pre-bent PRO Super Speed Axles.
Rail Rider® Tool
The Rail Rider Tool has been replaced with our 1.5 degree and 2.5 degree pre-bent BSA and PRO Super Speed axles. Use our 1.5 degree bent Steering Axle on a front wheel to steer your car straight, or gently steer your car to 'ride the rail.'

Steering is easy with our pre-cut screwdriver slot! Just turn the axle slightly left or right with a flat blade screwdriver.
The Rail Rider technique gently guildes one front wheel to "ride the rail" thereby rolling straight down the track. Tests have proven this technique to yield superior speed over a car that hits the rail, bounces off, hits again, etc.
Note:The Rail Riding technique is best done if you have a track to perform the tests required to get the car to gently ride the rails, rather than driving it into the rails.
Rail Rider® is a registered trademark of Warp Speed Derby, Inc.
PRO Wheel Mandrel
Polished Wheel = Greater Speed
The easiest way to make your wheels perfectly round and smooth is to mount each wheel on our mandrel then use a drill to spin the wheel while holding it lightly against a sandpaper block.
Benefits include:
Sand the outside wheel tread so it is perfectly smooth
Centering cone provides perfect wheel centering on the mandrel to true the wheel to the center line.
Polish the inner wheel edge to further reduce track friction.
PRO Bore Polisher
Polished Wheel Bore = Greater Speed
Use the PRO Bore Polishing Kit to polish and graphite-coat your wheel bores. This quick, easy technique is proven to improve car speed by reducing friction between the wheel and axle inside the wheel bore. No specialty tool needed here; just your drill
Eliminates plastic debris, scratches, and flaws inside the wheel bore.
Polishes the wheel bore to a high shine.
After polishing and washing out the wheel bore, use the extra cotton spears to coat the inside of the bore with graphite!
Includes the PRO Bore Micro Polish for plastic surfaces, dense cotton spears that perfectly sized for your wheel bore and an instruction sheet.
The bore polisher is easily chucked in a drill.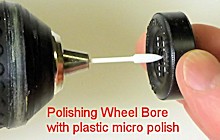 PRO Bore Polisher
Pinewood Derby Axle Polishing Kit
Polished Axles Improve Your Speed!
Pinewood Derby Axle polishing kit contains five BSA axles, black wet-or-dry sandpaper, pumice and full instructions for polishing your axles.
To increase speed, you need to sand the crimp marks using the 600 grit sandpaper, then polish your axles to a mirror shine using the pumice.
This kit has everything you need, including step-by-step pictorial instructions plus 5 spare axles!
Axle Polishing Kit
Pinewood Derby Axle File
Less Friction = More Speed!
Pinewood Derby axle file is used to remove burrs and reduce friction.
BSA axles are actually nails that have burrs and crimp marks from manufacturing. These defects act like brakes and must be removed or your car will have trouble reaching the finish line!
This handy little file solves the problem for you. Just put the axle in a vice and file off the defects.
We recommend getting the axle polishing kit to complete the job of turning your rough-cut nails into high performance axles!
Pinewood Derby Drill Bit
Perfect Drill Bit size for pinewoood derby axles
This is the perfect-sized drill bit for pinewood derby axle holes. This drill bit is 2.2mm, which is just big enough to allow you to hand-insert your BSA axles (2.24mm), so you can push your axles in with your fingers instead of a hammer! AWANA axles are 2.37mm, so they will be slightly tighter.
With a perfectly sized axle hole, you can hand insert your axles, saving your fingers and insuring that your axles go in straight, thereby increasing your car's speed.
We have found that a #44 drill bit (2.1mm) is too small for pinewood derby axles, making it impossible to push axles in with your fingers, adding the risk of inserting the axle crooked or cracking the block.
This drill bit works perfectly in our PRO Driller Tool.
PRO Wheel and axle Alignment Guide Tool
Check alignments in a snap...with the PRO Wheel and Axle Alignment Guide.
Precision = High Performance
Easily perform eight checks on your derby car for optimal performance! Increase speed with accurate axle and wheel alignments and spacing:
Axle alignment - makes your car roll straight
Wheel alignment - camber makes wheels square so car rolls straight
Wheel spacing - Checks wheel clearance against body to make sure wheels do not bind or wobble
Check wheel height - balance weight and makes car roll straight
Toe in, Toe out - A wheel check to make car roll straight
Track clearance - be sure car will not drag on center rail
Verify car is legal length
Verify car is legal width
Tool is made of a flexible, durable white polycarbonate.
Pinewood Derby Coping Saw and Wood rasp Kit
Everything You Need
All the derby cutting and shaping tools you need in one kit! Use the Coping saw to make rough or intricate cuts. Use the four sided wood rasp tool to shape your derby car.
Comes with 5 Coping Saw blades and even an instruction sheet.
Best Deal in Town!
Pinewood Derby Portable Mini-Scale
Use this small, Pinewood Derby pocket-scale to weigh your car BEFORE the weigh-in!
This scale is perfect for pinewood derby racers:
Highly accurate to .1 grams (.005 ounces) so you can accurately bring your car to maximum weight.
Handy 3.5" x 2.5" tray so your axles and wheels don't roll off.
Includes two AAA batteries
Backlit LCD display
Weighs in oz, grams, ozt and dwt
Tray doubles as protective cover for easy carrying and storage
Weighs up to 17 ounces
Turn scale on/off to zero it. Can also be recalibrated.
When not using it for pinewood derby racing, use it to weigh mail for accurate postage, food for recipes, etc.
Pinewood Derby Precision Scale
Weigh your pinewood derby on this versatile digital scale featuring a blue backlit LCD, stainless steel weighing platform and it even includes the battery.
When you finish with your pinewood derby, you can use it for:
Postage scale so you put accurate postage on your letter mail or parcels
Kitchen scale for accurate recipe portions
Counting things (weigh one item, then weigh box of items, subtract weight of box, then divide total weight by single item to get accurate number of items in box)
Other weighing applications.
This scale weighs up to 13lbs in .1oz increments so it can be used for many purposes after your pinewood derby race.
Includes Lbs/Kg (oz/grams) option, a hold key and even a tare option for weighing lots of items.
Pinewood Pro's PRO Tools are considered the best pinewood derby tools on the market. They are proven to reduce the work required to build a car while making your pinewood derby car the fastest it can be. PRO Tools were invented by the engineers at Pinewood Pro and many have US patents, or are patent pending. We have helped pinewood derby racers for over 20 years. But don't take OUR word for it! Read what our customers say about us.
Please take a moment to read some of our over 3,000 customer reviews.
PINEWOOD PRO
Winning Tips and Hints
Pinewood Derby
Tips & Hints
Before cutting your car, use a straight edge to draw lines down the center lengthwise and widthwise across your car. Then draw your car design template over these straight lines. The template and straight lines help guide your cutting on both sides of the car so everything is square.
Pinewood Derby
Wheels Tip
If you have a bad wheel and you don't have time to replace it, Raise that Wheel so it doesn't touch the track. Since it doesn't touch the track, it won't have any negative affect on your car's speed.
Pinewood Derby
Winning Hint
Winning Pinewood Derby Secrets contains all the tips you need to win your race. Updated annually with the latest tips and speed products, our book has proven results with 1000's of winners... but don't take our word for it! Read over 90 Customer Reviews and check out our Winners Gallery!