Wolf Pack Leader - Pinewood Derby Car Design Plan
$4.95 each
The leader of the Pack
---
Get this immediately! Instant Download
No Shipping Cost for this item
"excellent instructions with many suggestions (tuning, etc) and strong emphasis on safety...."
Get the Wolf Pack Leader, pinewood derby 3D car plan...
Complete pinewood derby design plan with full instructions, 3D AutoCAD graphics of the car showing each cut, weight placement, hints, building tips, tool list and car cut-out templates to use as a cutting guide.
We even show you your car in 6 different color schemes so you can pick the coolest look.
Pinewood Pro 3D derby car designs are the best derby designs on the market, guaranteed!
You can build this car! Our car design plans are the best on the market, guaranteed! We show you how with simple step-by-step clear, 3D images.
We show you every cut so you can't make a mistake...
Plan includes cut-out car design template, building hints, tips, weight placement for speed, six painting schemes, tools list, links for help and everything else you need.
Below are some sample pages from one of our car design plans: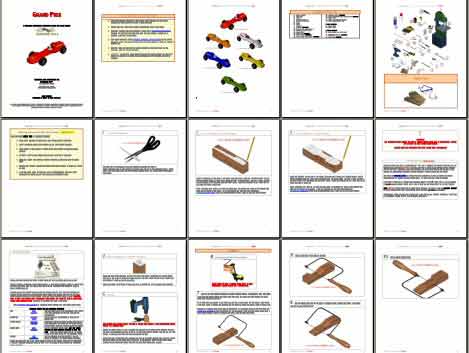 perfect
First car followed the instruction and it came out great.
NMAV8R
07 Mar 2014
Track Record
This year was my son's first Pinewood derby and I (Dad) was totally out of my element. My son chose this design out of all of them and we muddled our way through the process and ended up with a nice looking car in the end. But the best part was that this silly thing actually set a new track record at our derby. He won the race for his den and presumably would have won the whole event had it not popped off the track during one of his heats. But is was clear to all that he had the fastest car in the derby.
Record S
25 Feb 2014
We won!
We won first place with the car we built using this design. Best purchase ever! The look on my sons face when he placed first was priceless!
Tyler
13 May 2013
Great step by step guide
easy to build
Toddy
02 Apr 2013
Good design
Good instructions and easy to follow. You can draw your own design just as easy though.
Cowboy84
22 Apr 2011
3rd in pack
This plan worked out great for both my husband and son. The step by step was exactly what they needed. My son took 3rd place in his pack and we are waiting for the district race next week! We are going to double check the car and see if he can win!
Smiley
15 Mar 2011
WOLF design download
excellent instructions with many suggestions (tuning, etc) and strong emphasis on safety....
Mike
21 Feb 2011
Wolf Leader of the Pack
I was looking for a relatively easy design for my son and I to build as this was a first for the both of us. Needless to say after using a coping saw and Dremel multi-tool it came out AWESOME!! We went for te paint scheme similar to that of an AMC Rambler S/C with White as the base and Red and Blue accents. Very easy design to work with and to create.
SCRAMBLER
28 Jan 2011
First time builder...Had a good experience
The only flaw (and I'm not even sure it was one) was that the plan called for the weight cylinders in the back (under the spoiler). It turns out that we had to use flat weights and I had to carve out an area under the car. Not a huge deal, as the car did OK in winning a few races and only losing to the 1st and 2nd place cars in the den.
DimeLes
16 Mar 2010
Customers who purchased this product also purchased: