You can build this Pinewood Derby NASCAR!
(Full Car Design Template Included)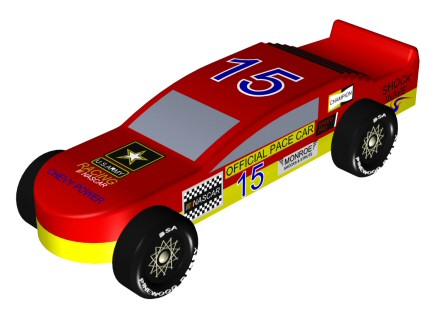 Car design plans include:
Cut-out printable car design template patterns
Building hints and shortcuts
Safety tips
Weight placement to maximize speed
Six painting schemes
cut-out decorative patterns
360 animation so you can see your car from all angles
Tools list and embedded links for help and everything you need...
Each car design plan comes with cut-out templates so you can't make a mistake.
Below are some sample pages from one of our car design plans: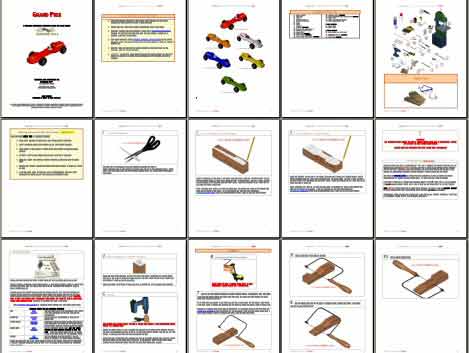 We even show your car in 6 different camoflage colors, plus give you a 360 degree animation of the final car so you can view it from all angles!



Download The NASCAR Pacer direct to your computer instantly.


Our 3D pinewood derby car designs are the best on the market, guaranteed!


Pinewood Derby
Tips & Hints

Looking for more cool car design ideas? Our free Pinewood Derby Car Design Guide has over 100 cool pinewood derby car design ideas.





Pinewood Derby
axles Tip

Many of the BSA "nails" that come in your kit are crooked. Chuck each axle in your drill and spin them. If the axle looks blurry as it spins, that axle is crooked. Replace crooked axles or consider getting an Axle Press Tool to straighten crooked axles.




Pinewood Derby
winning Hint

Winning Pinewood Derby Secrets contains all the tips you need to win your race. Updated annually with the latest tips and speed products, our book has proven results with 1000's of winners... but don't take our word for it! Read over 90 Customer Reviews and check out our Winners Gallery!



Helping Pinewood Derby Racers

...for over 15 years.
I just read your Winning Pinewood Derby Secrets book and I can not wait to apply the information. Thanks for the help!
- Tully from TX





My son and I finished 1st in our race! My son won the championship, and my daugther's car won 2nd place in the Family division. We were all very happy! Thank you from the entire family!
- Josh, Haley and Philip





Using these axles and BSA speed wheels, we set a track record, went undefeated and won the pack championship. My son is thrilled to be heading to districts and let me tell you, a winning scout is a happy scout. Can't recommend these enough!
- Natalie from CO




FREE Derby Help

Designing Your Car

Building Your Car

Making Your Car Fast

Finishing Touches

Pinewood Pro...

Information

Blastcar for Boy Scouts
Thank you for the great Pinewood Derby tips! My son was so excited when he got the 1st place trophy!
- Kevin from AZ





After 4 years of not winning, we finally did it!! Your book truly worked!!
- Wayne from CA





After winning 1st place overall for his pack my son went to the district race and won first place for the Bears using your wheels and speed axles. Great products, Pinewood Pro!
- Teddy from OH




Pinewood Derby Car Design - NASCAR Pacer