You can build this Pinewood Derby NASCAR!
(Full Car Design Template Included)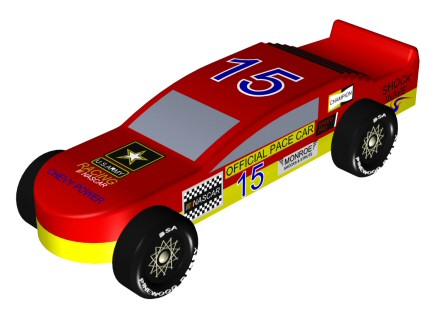 Car design plans include:
Cut-out printable car design template patterns
Building hints and shortcuts
Safety tips
Weight placement to maximize speed
Six painting schemes
cut-out decorative patterns
360 animation so you can see your car from all angles
Tools list and embedded links for help and everything you need...
Each car design plan comes with cut-out templates so you can't make a mistake.
Below are some sample pages from one of our car design plans: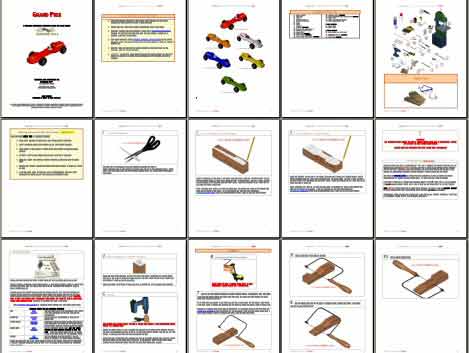 We even show your car in 6 different camoflage colors, plus give you a 360 degree animation of the final car so you can view it from all angles!



Download The NASCAR Pacer direct to your computer instantly.


Our 3D pinewood derby car designs are the best on the market, guaranteed!


Pinewood Derby
Tips & Hints

Make your car slim. If your car is too chunky, there will be lots of weight in the wood, leaving less weight for your weights. You want lots of weight so you can move the center of gravity to the optimal point to maximize inertia.





Pinewood Derby
weights Tip

Tungsten weights are ideal for pinewood derby cars. Tungsten is about 1/3 smaller than a zinc piece with the same weight. Therefore, you can pack Tungsten weights in a smaller area to optimize your center of gravity to maximize inertia giving you greater speed at the finish gate.




Pinewood Derby
lubes Hint

When adding Nyoil to your axles, "less is more"! Only use one or two drops per axle and wipe off any excess oil. The oil should not be run down your axle.



Helping Pinewood Derby Racers

...for over 15 years.
Great tips in your Winning Secrets book! This was our first year and my son was the overall District Winner. There were 250 racers at the District race so I'm guessing we have something like 1,000 scouts in our district. With that type of competition you need these tips to be competitive.
- Mike from FL





Thanks for all your help to get first place in tiger cub class.
- Chris





Last year we took 1st place in our pack I am sold on your speed axles and speed wheels. We raced the car in his elementary school, and he won 1st place in the whole school. Thanks so much!
- Kirk from UT




FREE Derby Help

Designing Your Car

Building Your Car

Making Your Car Fast

Finishing Touches

Pinewood Pro...

Information

Blastcar for Boy Scouts
Thank you for all of the information. We had fun making the car! We're going on to the Regionals, as our car to 1st place in our den!
- Lou from IN

This was my 7 year old son's first Pinewood Derby and I would have paid 100 times the price just to see the expression on his face when he took first! Your information was invaluable!
Fred & Vincent

Everything was great! It was my son's first Kubcar race...approx 60 cars, and he took 1st place! He was so excited... Thanks again. Your Winning Pinewood Derby Secrets book really helped!
- Glenn from Toronto
Pinewood Derby Car Design - NASCAR Pacer