You can build this Pinewood Derby NASCAR!
(Full Car Design Template Included)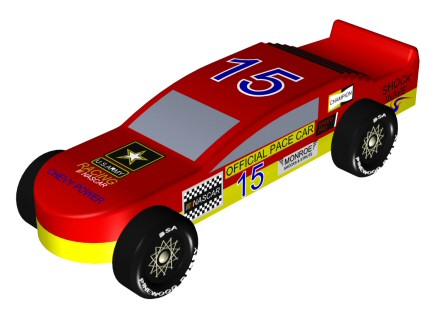 Car design plans include:
Cut-out printable car design template patterns
Building hints and shortcuts
Safety tips
Weight placement to maximize speed
Six painting schemes
cut-out decorative patterns
360 animation so you can see your car from all angles
Tools list and embedded links for help and everything you need...
Each car design plan comes with cut-out templates so you can't make a mistake.
Below are some sample pages from one of our car design plans: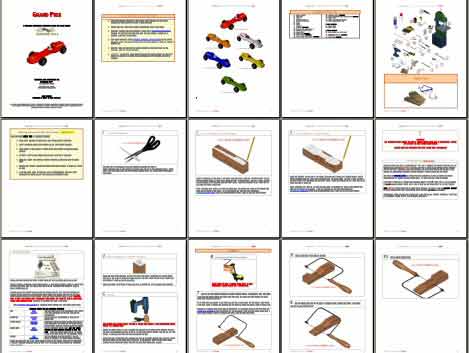 We even show your car in 6 different camoflage colors, plus give you a 360 degree animation of the final car so you can view it from all angles!



Download The NASCAR Pacer direct to your computer instantly.


Our 3D pinewood derby car designs are the best on the market, guaranteed!


Pinewood Derby
Tips & Hints

If you are using 3/8" round weights, drill your 3/8" weight holes before cutting out the rest of the car because it is easier to hold the full block. Always use a clamp to hold your block before drilling or cutting. Safety First!





Pinewood Derby
axles Tip

When your wheel rubs against the axle head it creates friction. To reduce this friction, file the head back slightly using an Axle File to reduce the friction area.




Pinewood Derby
building Hint

Don't attach feathers or big decorative parts that can cause drag. This will decrease your car speed



Helping Pinewood Derby Racers

...for over 15 years.
This was my 7 year old son's first Pinewood Derby and I would have paid 100 times the price just to see the expression on his face when he took first! Your information was invaluable!
Fred & Vincent





We placed an amazing 2nd out of 28 cars. We only lost to first place by half an inch. Our car ran consistently all night. We won 2nd place overall! You will be our first stop next year!
- John





Great tips in your Winning Secrets book! This was our first year and my son was the overall District Winner. There were 250 racers at the District race so I'm guessing we have something like 1,000 scouts in our district. With that type of competition you need these tips to be competitive.
- Mike from FL




FREE Derby Help

Designing Your Car

Building Your Car

Making Your Car Fast

Finishing Touches

Pinewood Pro...

Information

Blastcar for Boy Scouts
My son's car won every heat it raced. Thanks again Joe. Your info is the best out there!
- Gina

This is our second order with Pinewood Pro and everything from the website to the delivery to the product has been excellent. As a Dad experiencing his first Cub Scout Pinewood Pro is a great resource to make sure I don't screw up! Thanks,
- Neal from PA

Thank you for the tips in your Winning Secrets book. Out of 116 cars in our AWANA Grand Prix, my boys came in first in their divisions and 1st and 3rd overall. They were thrilled!
- Carl
Pinewood Derby Car Design - NASCAR Pacer