You can build the Pinewood Derby Army Humvee!
(Full Car Design Template Included)
Build The J19 Army Humvee Pinewood Derby car with our easy step-by-step instructions, fully illustrated with 3D AutoCAD images that show each cut, along with templates, weight placement, building hints, tips and painting guide.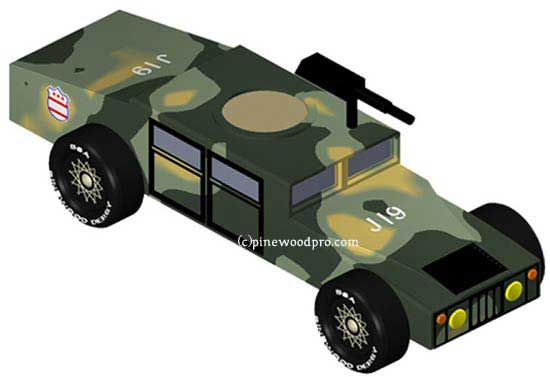 Each car design plan comes with cut-out templates so you can't make a mistake.
We even show your car in 6 different camoflage colors,
plus give you a 360 degree animation of the final car so you can view it from all angles!
Below are some sample pages from one of our car design plans. Each plan is over 30 pages of detailed step-by-step instructions, essential speed tips, color schemes along with direct links to everything you need to make your car.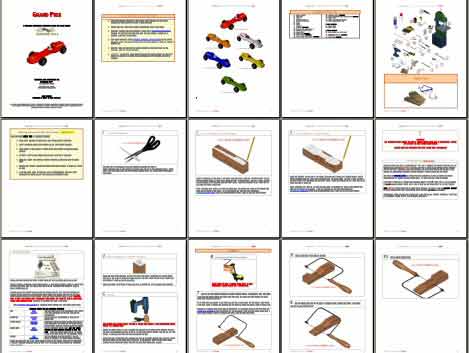 Nothing stops the Humvee....nothing.


only $4.95
Pinewood Pro 3D pinewood derby car designs - the best on the market, guaranteed!
Visit our full pinewood derby car picture gallery and enter a picture of your car!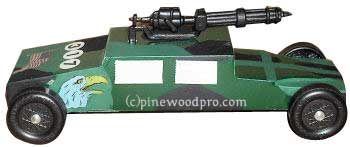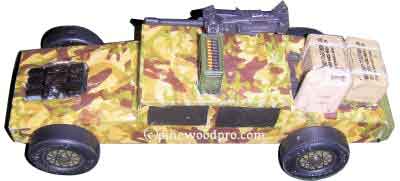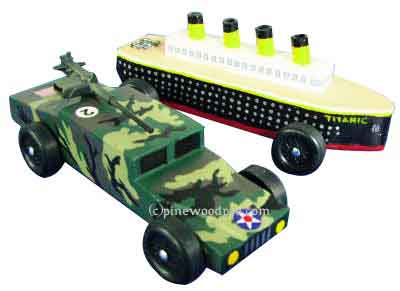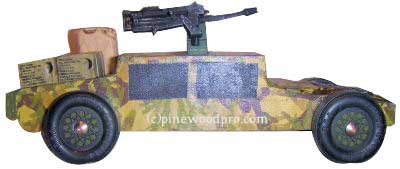 FREE Derby Help

Designing Your Car

Building Your Car

Making Your Car Fast

Finishing Touches

Pinewood Pro...

Information


On to Districts!
Proud Mom from CA
We took first in den and first in pack!! Total of 71 racers. We're off to the District race…thanks to the Pro's at Pinewood Pro!




Thanks a ton for all of the tips and of course the Wheels and Axels! We beat cars that had taken district and region in Georgia! This was my last race with my two boys. Great way to end! Thanks again!
- David



First Place!
Firebird from Florida
This car came in first place with each run in it's division. My son won first place for speed and second place for design.





My son used your Tiger Claw design for his car. I read the tips on your website, and race day exceeded our expectations. Daniel's car won every race for his den, and qualified for the district races. At district, it seemed that his car got faster with every run, and he won first place! His car also won a trophy for most scout spirit. Thanks for your quality products and tips. We have memories that will last us our lifetimes.
- David



My son placed 1st place in the St. David's Cup.
- Wayne









Pinewood Derby
Authority

...for over 10 years.



Designed by Engineers

Machined to Perfection


Best sellers
Thanks for all your help to get first place in tiger cub class.
- Chris




We won!
Beaming Dad from OH
We took 1st place overall ! My son and I were more surprised than everyone else! My son was beaming with pride and it is a memory that will last a lifetime. Pinewood Pro supplies and knowledge were a vital component in building that champion car.



My grandson placed first and had the only car that won all his races that day. There's no doubt that the building hints in your book, the weight placement,wheels and axles made the difference. To see his smiles get bigger and bigger with each win, was well worth the effort. Thanks for the quality products and support.
- Cliff



Worth Every Penny!
Satisfied Dad from NJ
Two years with little success before finding Pinewood Pro…this year we came in 1st! It was worth every penny to see the look on my son's face!