You can build the Pinewood Derby Army Humvee!
(Full Car Design Template Included)
Build The J19 Army Humvee Pinewood Derby car with our easy step-by-step instructions, fully illustrated with 3D AutoCAD images that show each cut, along with templates, weight placement, building hints, tips and painting guide.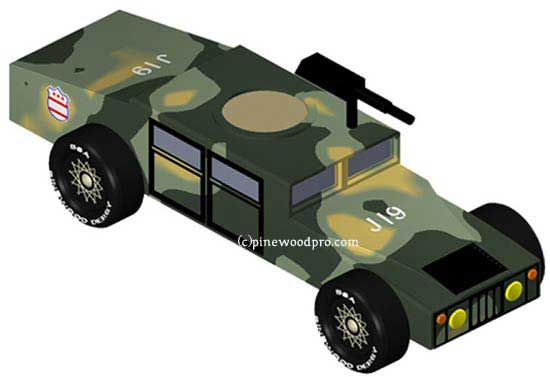 Each car design plan comes with cut-out templates so you can't make a mistake.
We even show your car in 6 different camoflage colors,
plus give you a 360 degree animation of the final car so you can view it from all angles!
Below are some sample pages from one of our car design plans. Each plan is over 30 pages of detailed step-by-step instructions, essential speed tips, color schemes along with direct links to everything you need to make your car.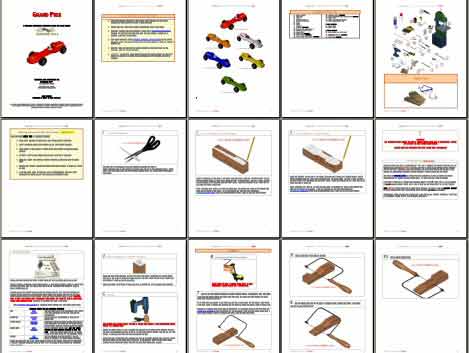 Nothing stops the Humvee....nothing.


only $4.95
Pinewood Pro 3D pinewood derby car designs - the best on the market, guaranteed!
Visit our full pinewood derby car picture gallery and enter a picture of your car!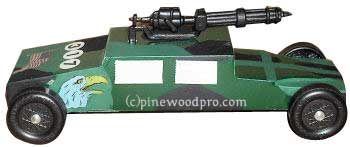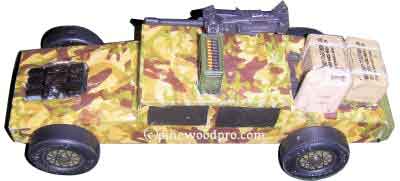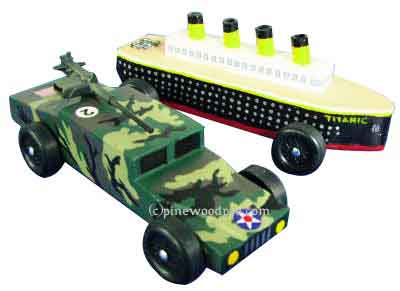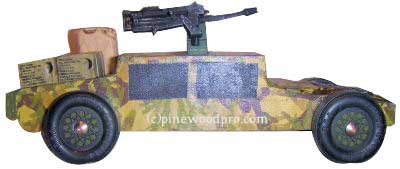 Pinewood Derby
Tips & Hints

If you are using 3/8" round weights, drill your 3/8" weight holes before cutting out the rest of the car because it is easier to hold the full block. Always use a clamp to hold your block before drilling or cutting. Safety First!





Pinewood Derby
winning Tip

Winning Pinewood Derby Secrets contains all the tips you need to win your race. Updated annually with the latest tips and speed products, our book has proven results with 1000's of winners... but don't take our word for it! Read over 90 Customer Reviews and check out our Winners Gallery!




Pinewood Derby
painting Hint

Put a coat of wood primer on your car before painting it because pine wood is porous and will absorb the first coat of paint. Lightly sand the primer after it dries, then apply a final coat (or two) for a clean, finished look.



Helping Pinewood Derby Racers

...for over 15 years.
My daughter won 1st place, and my son won 3rd place. It was very fun and hope to do again next year. Thanks for your great information,
- Barry





My son, won his pack derby today on our first attempt! He won 9 races in a row and none of them were even close. Thanks for your assist in this father & son memory.
- Kevin





Thanks to your detailed instructions, speed tips and parts, we won 1st place! Thanks so much.
- Joe




FREE Derby Help

Designing Your Car

Building Your Car

Making Your Car Fast

Finishing Touches

Pinewood Pro...

Information

Blastcar for Boy Scouts
Thank you very much for the tips in your Winning Secrets book. Out of 116 cars in our AWANA Grand Prix, my boys came in first in their divisions and 1st and 3rd overall. They (and Dad) were thrilled!
Many thanks,
- Carl





we downloaded Winning Pinewood Derby Secrets a couple of weeks ago and began reading and working. And, today, we won first place overall in our Pack!!! Alex is a Webelos 2 this year, so it was our last chance and we won it all. Thanks!!!
- Brad and Alex





We won every race we entered as well as the grand prize for the fastest car! Thanks for your help and interest.
- Debra




Pinewood Derby Design - Army Humvee