You can build the Pinewood Derby Army Humvee!


(Full Car Design Template Included)

About the Author: Joe Gargiulo, Pinewood Pro founder

Build The J19 Army Humvee Pinewood Derby car with our easy step-by-step instructions, fully illustrated with 3D AutoCAD images that show each cut, along with templates, weight placement, building hints, tips and painting guide.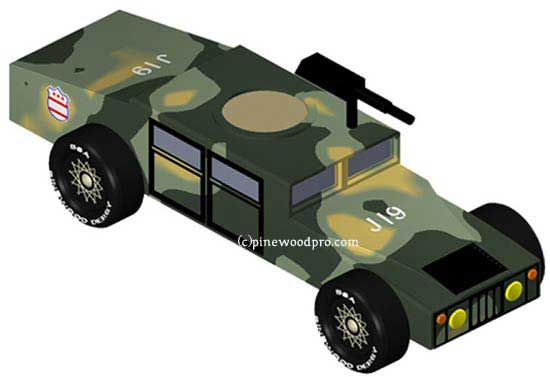 Each car design plan comes with cut-out templates so you can't make a mistake.
We even show your car in 6 different camoflage colors,
plus give you a 360 degree animation of the final car so you can view it from all angles!
Below are some sample pages from one of our car design plans. Each plan is over 30 pages of detailed step-by-step instructions, essential speed tips, color schemes along with direct links to everything you need to make your car.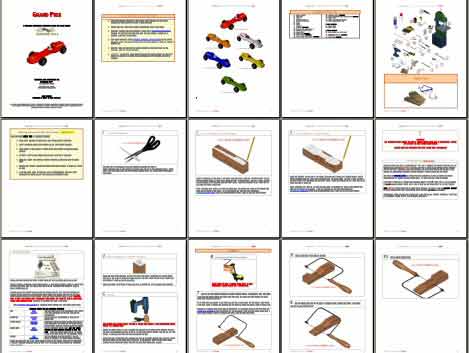 Nothing stops the Humvee....nothing.


Pinewood Pro 3D pinewood derby car designs - the best on the market, guaranteed!
Visit our full pinewood derby car picture gallery and enter a picture of your car!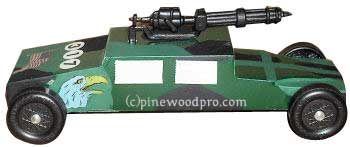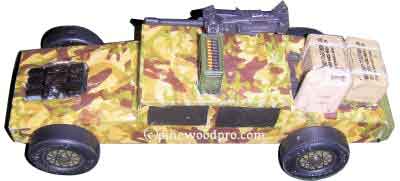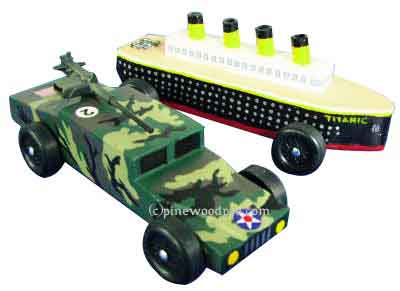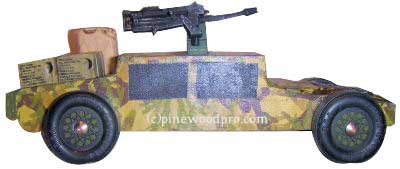 Pinewood Derby
Tips & Hints

Spin each wheel on a polished axle with graphite and count the number of revolutions. If a wheel wobbles, try spinning it again. If it still wobbles, get another wheel that does not wobble.





Pinewood Derby
axles Tip

When your wheel rubs against the axle head it creates friction. To reduce this friction, file the head back slightly using an Axle File to reduce the friction area.




Pinewood Derby
weights Hint

Lead is denser than zinc but lead is toxic, so we do not recommend handling it. Use non-toxic weights like zinc or tungsten.



Helping Pinewood Derby Racers

...for over 15 years.
This was my 7-year-old's first Pinewood Derby and he won 1st! We followed your Winning Pinewood Derby Secrets and his car smoked other the cars by 4-5 car lengths each race. Thanks again.
- John





Just wanted to say THANK YOU! I received my items. I have used you guys for 3 or 4 years now, ALWAYS fast, great products, I am very happy with you guys. AND we have won AT LEAST our den every year! Cheers!
- Paul from MO





Thank you for the great Pinewood Derby tips! My son was so excited when he got the 1st place trophy!
- Kevin from AZ




FREE Derby Help

Designing Your Car

Building Your Car

Making Your Car Fast

Finishing Touches

Pinewood Pro...

Information

Blastcar for Boy Scouts
I ordered a set of your BSA wheels and axels last minute on Wednesday for overnight delivery. Our race was on Friday. We finished in 6th out of 80 cars, and will be going to the Divisional Race! My son was never happier! Thanks again!
- Steve from KY

1st Place!! Thanks for the everlasting memories you have made possible!
- Williiam from IN

This was my 7 year old son's first Pinewood Derby and I would have paid 100 times the price just to see the expression on his face when he took first! Your information was invaluable!
Fred & Vincent
Pinewood Derby Design - Army Humvee