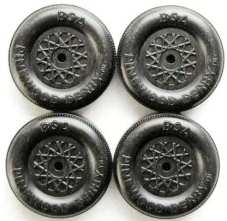 Why a matched set?

BSA manufactures wheels from 18 different molds, numbered 1 to 18. The wheels in your kit can be from any of these molds. You can see the mold number embossed on the inside of each wheel.


Problem is, each mold is slightly different. Wheels can have slightly outside diameters, different bore sizes, hubs and tread characteristics.

When every milisecond counts, you want each wheel to be exactly the same because small differences will make the car slightly off balance affecting speed. Just like the car you drive, your wheels should be "balanced" to get optimal performance.

Pinewood Pro Matched wheel sets contain four wheels, each from the same mold to give you optimal performance, balance and speed.

Another Winning Secret from the pinewood derby experts at Pinewood Pro.
Pinewood Derby
Tips & Hints

The best part of pinewood derby is designing a unique, cool car that you can call your own. Don't worry about aerodynamics because it is almost insignificant. We identify dozens of other speed tips in Winning Pinewood Derby Secrets that rank far above aerodynamics.





Pinewood Derby
axles Tip

Many of the BSA "nails" that come in your kit are crooked. Chuck each axle in your drill and spin them. If the axle looks blurry as it spins, that axle is crooked. Replace crooked axles or consider getting an Axle Press Tool to straighten crooked axles.




Pinewood Derby
building Hint

Crooked axle slots are perhaps the number one reason cars crash into the lane guides. Drill the axle slot with a drill press or the PRO Driller to be sure your axles go in straight and are square to the block.



Helping Pinewood Derby Racers

...for over 15 years.
Wow, we did it! Dad, I'll never forget this night.
- Steven Gargiulo
Trumbull, CT





Thank you for the tips in your Winning Secrets book. Out of 116 cars in our AWANA Grand Prix, my boys came in first in their divisions and 1st and 3rd overall. They were thrilled!
- Carl





Thanks for helping out with these orders. I appreciate the quality of your customer service and will definitely recommend your company to others in my son's pack. Cheers!
- Thomas from NC




FREE Derby Help

Designing Your Car

Building Your Car

Making Your Car Fast

Finishing Touches

Pinewood Pro...

Information

Blastcar for Boy Scouts
Thanks to your detailed instructions, speed tips and parts, we won 1st place! Thanks so much.
- Joe from ME

This will be my 3rd year ordering from you. This year I have an 8 year old son, a ten year old son, and my 12 year old daughter's young women group is also doing the pinewood derby. We are still undefeated – Last year we purchased your wheels and axles and won 1st place again, 2 years running!
- Kirk from UT

Thanks for offering such great products to beginners. My son finished 1st in his pack, 2nd in his district, and 6th overall for his first year. Will definitely order from you again.
- Matthew from TN
Pinewood Derby Matched Wheels