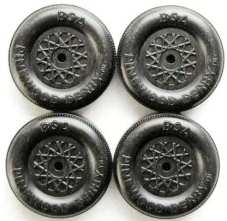 Why a matched set?

BSA manufactures wheels from 18 different molds, numbered 1 to 18. The wheels in your kit can be from any of these molds. You can see the mold number embossed on the inside of each wheel.


Problem is, each mold is slightly different. Wheels can have slightly outside diameters, different bore sizes, hubs and tread characteristics.

When every milisecond counts, you want each wheel to be exactly the same because small differences will make the car slightly off balance affecting speed. Just like the car you drive, your wheels should be "balanced" to get optimal performance.

Pinewood Pro Matched wheel sets contain four wheels, each from the same mold to give you optimal performance, balance and speed.

Another Winning Secret from the pinewood derby experts at Pinewood Pro.
Pinewood Derby
Tips & Hints

Lighter wheels turn easier (they require less inertia). Lighten your wheels, as much as your Rules allow, which will give you a fast start out of the gate and faster speed down the track.





Pinewood Derby
axles Tip

The axle slots that are cut into standard blocks are too tight for BSA axles that are .089" diameter. Small axle slots make it difficult to get your axles in straight. A #44 drill bit is .086", which I find too tight. Consider a #43 Drill Bit, which is a perfect match at .089" for a snug fit.




Pinewood Derby
weights Hint

Tungsten Putty is ideal for getting your car up to the maximum 5 oz limit. Drill a hole in the bottom of your car and insert Pinewood Pro Putty as the last step to bring your car to 5.0 oz. If the official scale weighs you in at 5.1 oz, simply remove a small amount of putty to bring it back to 5.0 oz.



Helping Pinewood Derby Racers

...for over 15 years.
We took first in our pack of 60 cars. It was an amazing day. Thanks again Joe. Your info is the best out there!
- Gina





Using these axles and BSA speed wheels, we set a track record, went undefeated and won the pack championship. My son is thrilled to be heading to districts and let me tell you, a winning scout is a happy scout. Can't recommend these enough!
- Natalie from CO





My son, won his pack derby today on our first attempt! He won 9 races in a row and none of them were even close. Thanks for your assist in this father & son memory.
- Kevin from VT




FREE Derby Help

Designing Your Car

Building Your Car

Making Your Car Fast

Finishing Touches

Pinewood Pro...

Information

Blastcar for Boy Scouts
I just read your Winning Pinewood Derby Secrets book and I can not wait to apply the information. Thanks for the help!
- Tully from TX

I can't even put into words how excited, proud and happy my daughter was each time her car won. Worth every penny, plus more. Thank you SO MUCH Pinwood Pro!
- Nina from PA

Thank you for the great Pinewood Derby tips! My son was so excited when he got the 1st place trophy!
- Kevin from AZ
Pinewood Derby Matched Wheels