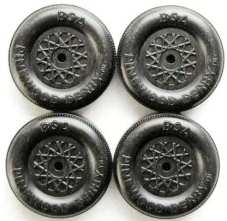 Why a matched set?

BSA manufactures wheels from 18 different molds, numbered 1 to 18. The wheels in your kit can be from any of these molds. You can see the mold number embossed on the inside of each wheel.


Problem is, each mold is slightly different. Wheels can have slightly outside diameters, different bore sizes, hubs and tread characteristics.

When every milisecond counts, you want each wheel to be exactly the same because small differences will make the car slightly off balance affecting speed. Just like the car you drive, your wheels should be "balanced" to get optimal performance.

Pinewood Pro Matched wheel sets contain four wheels, each from the same mold to give you optimal performance, balance and speed.

Another Winning Secret from the pinewood derby experts at Pinewood Pro.
Pinewood Derby
Tips & Hints

Looking for a pinewood derby car design template? Select from over 30 of Pinewood Pro's award winning Pinewood Derby Car Designs. They include everything from race cars to Military cars to a Nike Sneaker!





Pinewood Derby
winning Tip

Winning Pinewood Derby Secrets contains all the tips you need to win your race. Updated annually with the latest tips and speed products, our book has proven results with 1000's of winners... but don't take our word for it! Read over 90 Customer Reviews and check out our Winners Gallery!




Pinewood Derby
painting Hint

When painting with children, it is better to use a paint brush rather than spray paint because spray paint can cause vapors. If the child is spray painting, be sure to use a breathing mask and be in an open area.



Helping Pinewood Derby Racers

...for over 15 years.
We won every race we entered as well as the grand prize for the fastest car! Thanks for your help and interest.
- Debra





Once we ordered your tips and tricks we won 1st place every year since.
Thank You so much for this information and making my son's pinewood derby career a success.
- Keith





We placed a spectacular 2nd out of 28 cars. We only lost to the first place car by half an inch. Our car ran consistently 3.11-3.22 times all night. Our tops was a blistering 202mph (simulated). We won 2nd place overall and got the most patriotic car award. YOU will be our first stop for next year!
- John




FREE Derby Help

Designing Your Car

Building Your Car

Making Your Car Fast

Finishing Touches

Pinewood Pro...

Information

Blastcar for Boy Scouts
He took first place in his wolf pack and then took first place as the Grand Champion. Thank You for the awesome axles they did the trick!
- Keith





Keirsten's car won first place in her troop and grand champion out of all the other troops that participated.
- Melissa





The speed axles did the trick second year in a row!
- Debbie




Pinewood Derby Matched Wheels