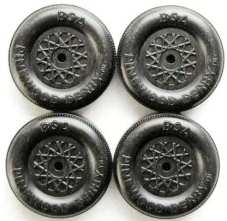 Why a matched set?

BSA manufactures wheels from 18 different molds, numbered 1 to 18. The wheels in your kit can be from any of these molds. You can see the mold number embossed on the inside of each wheel.


Problem is, each mold is slightly different. Wheels can have slightly outside diameters, different bore sizes, hubs and tread characteristics.

When every milisecond counts, you want each wheel to be exactly the same because small differences will make the car slightly off balance affecting speed. Just like the car you drive, your wheels should be "balanced" to get optimal performance.

Pinewood Pro Matched wheel sets contain four wheels, each from the same mold to give you optimal performance, balance and speed.

Another Winning Secret from the pinewood derby experts at Pinewood Pro.
Pinewood Derby
Tips & Hints

Need a little extra weight on weigh in but didn't bring extra weight with you? Use a coin! Here are the weights of US coins in ounces: penny .11 oz, nickel .17 oz, dime .07 oz, quarter .18 oz





Pinewood Derby
lubes Tip

Nyoil stays on your axles throughout the race, unlike powdered graphite that blows off every time your car goes down the track. This gives Nyoil coated axles a speed advantage if your car keeps racing.




Pinewood Derby
painting Hint

Put a clear Gloss Paint Sealer on your car to protect your cool paint job from dirt and graphite smudges.



Helping Pinewood Derby Racers

...for over 15 years.
My son peter took first place with his car. Thanks for your products,
- Tony from TX





I just read your Winning Pinewood Derby Secrets book and I can not wait to apply the information. Thanks for the help!
- Tully from TX





My son won 1st place for the fastest car. Thank you for all of your tips and tricks they were a big help.
- Rob




FREE Derby Help

Designing Your Car

Building Your Car

Making Your Car Fast

Finishing Touches

Pinewood Pro...

Information

Blastcar for Boy Scouts
Hey Joe- Just wanted to pass on the good news- and a few nice pix. We ended up in 2nd place out of 63 cars racing. Not too bad, and we'll be at district in a few weeks.
- David from IL

We won! In the championships we beat 24 other Bears and won every heat.
- Kevin K. from CA

My grandson placed won his races! Your speed secrets and products made the difference. To see his smiles get bigger with each win was worth it.
- Cliff
Pinewood Derby Matched Wheels