You can build this Pinewood Derby Batmobile!
(Full Car Design Template Included)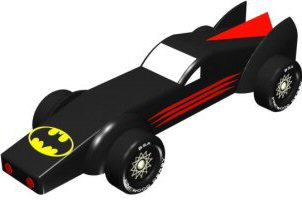 Our Batmobile car design plan shows you how to build the batmobile from the standard pinewood derby wooden block. The plan includes simple, clear step-by-step 3D images showing each cut so you can't make a mistake.
Car design plans include:
Cut-out printable car design template patterns
Building hints and shortcuts
Safety tips
Weight placement to maximize speed
Six painting schemes
cut-out decorative patterns
360 animation so you can see your car from all angles
Tools list and embedded links for help and everything you need...

Below are some sample pages from one of our car design plans: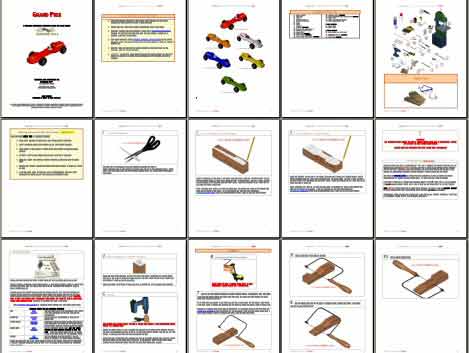 only $4.95
Pinewood Derby
Tips & Hints

The best part of pinewood derby is designing a unique, cool car that you can call your own. Don't worry about aerodynamics because it is almost insignificant. We identify dozens of other speed tips in Winning Pinewood Derby Secrets that rank far above aerodynamics.





Pinewood Derby
axles Tip

The axle slots that are cut into standard blocks are too tight for BSA axles that are .089" diameter. Small axle slots make it difficult to get your axles in straight. A #44 drill bit is .086", which I find too tight. Consider a #43 Drill Bit, which is a perfect match at .089" for a snug fit.




Pinewood Derby
winning Hint

Winning Pinewood Derby Secrets contains all the tips you need to win your race. Updated annually with the latest tips and speed products, our book has proven results with 1000's of winners... but don't take our word for it! Read over 90 Customer Reviews and check out our Winners Gallery!



Helping Pinewood Derby Racers

...for over 15 years.
This is our second order with Pinewood Pro and everything from the website to the delivery to the product has been excellent. As a Dad experiencing his first Cub Scout Pinewood Pro is a great resource to make sure I don't screw up! Thanks,
- Neal from PA





Jacob had a blast seeing his car fly! Thanks for the tips!
- Matthew and Jacob





You guys are amazing. Thank you for such prompt attention. We will deal with you from now on. I have at least 9 more years of pinewood cars to make, and it's your products that will help us through them. Thank you soooo much!
- Lisa from CA




FREE Derby Help

Designing Your Car

Building Your Car

Making Your Car Fast

Finishing Touches

Pinewood Pro...

Information

Blastcar for Boy Scouts
Thank you for all of the information. We had fun making the car! We're going on to the Regionals, as our car to 1st place in our den!
- Lou from IN





We ran our 3 cars at a local pack meet, and what a great time my kids had. Both of my two boys prepared their cars with your tooling. My boys were given first and second place.
- Brian from DE





Thanks for helping out with these orders. I appreciate the quality of your customer service and will definitely recommend your company to others in my son's pack. Cheers!
- Thomas from NC




Pinewood Derby Design - Batmobile Car