Grand Prix Pinewood Derby Car Design Plan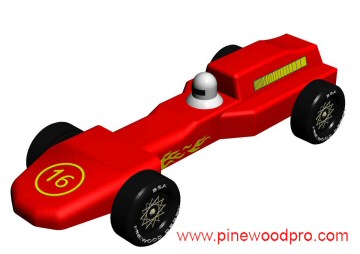 Take a peek inside...

You can build this car.

We show you how with simple step-by-step clear, 3D images.

Full plan is 31 pages that show you every cut so you can't make a mistake...

Includes building hints, tips, where to place weights for speed, painting ideas, tools list and links for help and everything you need.

Below are some sample pages from one of our car design plans: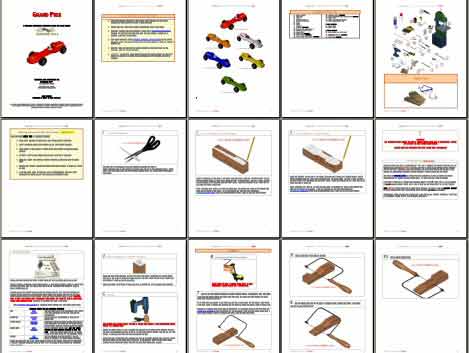 only $4.95

Pinewood Derby
Tips & Hints

If you have a bad wheel and you don't have time to replace it, Raise that Wheel so it doesn't touch the track. Since it doesn't touch the track, it won't have any negative affect on your car's speed.





Pinewood Derby
weights Tip

Tungsten weights are ideal for pinewood derby cars. Tungsten is about 1/3 smaller than a zinc piece with the same weight. Therefore, you can pack Tungsten weights in a smaller area to optimize your center of gravity to maximize inertia giving you greater speed at the finish gate.




Pinewood Derby
building Hint

A warped block is ok, as long as your axles are square to the block. Use the PRO Driller Tool to drill perfectly straight axle holes which insures your car will roll straight.



Helping Pinewood Derby Racers

...for over 15 years.
Thanks to your detailed instructions, speed tips and parts, we won 1st place! Thanks so much.
- Joe from ME





Great tips in your Winning Secrets book! This was our first year and my son was the overall District Winner. There were 250 racers at the District race so I'm guessing we have something like 1,000 scouts in our district. With that type of competition you need these tips to be competitive.
- Mike from FL





Thank you for your help, my grandson took first place in his pinewood derby race!
- Grandpa Jim from PA




FREE Derby Help

Designing Your Car

Building Your Car

Making Your Car Fast

Finishing Touches

Pinewood Pro...

Information

Blastcar for Boy Scouts
Using these axles and BSA speed wheels, we set a track record, went undefeated and won the pack championship. My son is thrilled to be heading to districts and let me tell you, a winning scout is a happy scout. Can't recommend these enough!
- Natalie from CO





Thank you for all of the information. We had fun making the car! We're going on to the Regionals, as our car to 1st place in our den!
- Lou from IN





My son's car won every heat it raced. Thanks again Joe. Your info is the best out there!
- Gina




Pinewood Derby Car Design - Grand Prix