Grand Prix Pinewood Derby Car Design Plan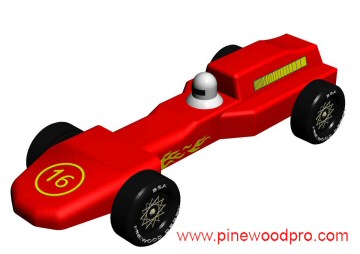 Take a peek inside...

You can build this car.

We show you how with simple step-by-step clear, 3D images.

Full plan is 31 pages that show you every cut so you can't make a mistake...

Includes building hints, tips, where to place weights for speed, painting ideas, tools list and links for help and everything you need.

Below are some sample pages from one of our car design plans: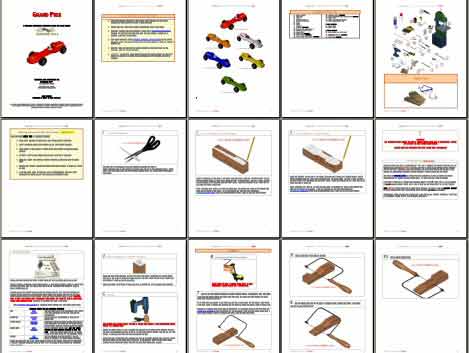 only $4.95

Pinewood Derby
Tips & Hints

Lead is denser than zinc but lead is toxic, so we do not recommend handling it. Use non-toxic weights like zinc or tungsten.





Pinewood Derby
lubes Tip

Our PRO Graphite, with molybdenum disulfide, is a proven winner. Our Track Tests show an average speed increase of 17%.




Pinewood Derby
painting Hint

Put a coat of wood primer on your car before painting it because pine wood is porous and will absorb the first coat of paint. Lightly sand the primer after it dries, then apply a final coat (or two) for a clean, finished look.



Helping Pinewood Derby Racers

...for over 15 years.
My son won third in his pack, and we are waiting the district race. Thanks again for all of your wonderful products!
- Tom from AZ





Last year we took 1st place in our pack I am sold on your speed axles and speed wheels. We raced the car in his elementary school, and he won 1st place in the whole school. Thanks so much!
- Kirk from UT





Once we ordered your tips and tricks we won 1st place every year since. Thank You so much for this information and making my son's pinewood derby career a success.
- Keith




FREE Derby Help

Designing Your Car

Building Your Car

Making Your Car Fast

Finishing Touches

Pinewood Pro...

Information

Blastcar for Boy Scouts
Wow, we did it! Dad, I'll never forget this night.
- Steven Gargiulo
Trumbull, CT

Thank you for the great Pinewood Derby tips! My son was so excited when he got the 1st place trophy!
- Kevin from AZ

Thanks for all your help to get first place in tiger cub class.
- Chris
Pinewood Derby Car Design - Grand Prix