The Spider Car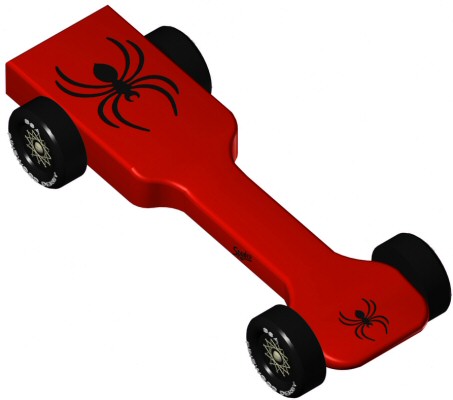 The Spider Car is a sleek aerodynamic design that is a favorite because it is easy to build and it has won many races. The Spider has very little wood because it is thin and the sides are cut in. As a result, you can place more weight to the rear of the car.

Our easy step-by-step instructions include the only derby car plans on the market with fully illustrated 3D AutoCAD images.

We show each cut, along with weight placement, car building do's and don't tips plus speed tips and a painting guide.

Each car design plan comes with cut-out templates so you can't make a mistake.

We even show your car in 6 different colors,
plus give you a 360 degree animation of the final car so you can view it from all angles!

Download The Spider direct to your computer instantly!.




Our 3D pinewood derby car designs are the best on the market, guaranteed!



Car design plans include:

Cut-out printable car design template patterns
Building hints and shortcuts
Safety tips
Building tips, including do's and don'ts
Weight placement to maximize speed
Six painting schemes
cut-out decorative patterns
360 animations so you can see your car from all angles
Tools list
Embedded links for everything you need to build this car and make it fast.


Below are some sample pages from one of our car design plans: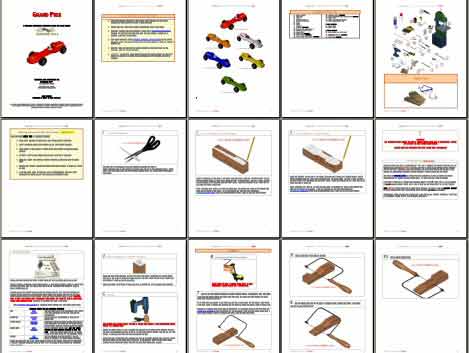 only $4.95
Pinewood Derby
Tips & Hints

Before cutting your car, use a straight edge to draw lines down the center lengthwise and widthwise across your car. Then draw your car design template over these straight lines. The template and straight lines help guide your cutting on both sides of the car so everything is square.





Pinewood Derby
lubes Tip

When adding Nyoil to your axles, "less is more"! Only use one or two drops per axle and wipe off any excess oil. The oil should not be run down your axle.



Helping Pinewood Derby Racers

...for over 15 years.
Your tips were Fabulous! Competing in the District Race tomorrow...Our first time making a car! You ROCK!!!!
- Nancy B from NC





My son, won his pack derby today on our first attempt! He won 9 races in a row and none of them were even close. Thanks for your assist in this father & son memory.
- Kevin from VT




FREE Derby Help

Designing Your Car

Building Your Car

Making Your Car Fast

Finishing Touches

Pinewood Pro...

Information

Blastcar for Boy Scouts
This was our first year racing in the Pinewood Derby. We came out in second place. Thanks for all your help, without your book, we would not have won!! Look at that big smile.
- Eli from TN
Spider Pinewood Derby Car Plan