The Spider Car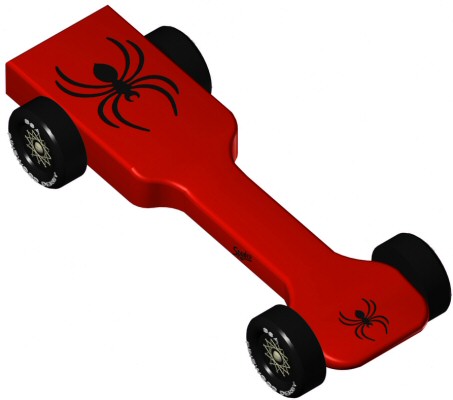 The Spider Car is a sleek aerodynamic design that is a favorite because it is easy to build and it has won many races. The Spider has very little wood because it is thin and the sides are cut in. As a result, you can place more weight to the rear of the car.

Our easy step-by-step instructions include the only derby car plans on the market with fully illustrated 3D AutoCAD images.

We show each cut, along with weight placement, car building do's and don't tips plus speed tips and a painting guide.

Each car design plan comes with cut-out templates so you can't make a mistake.

We even show your car in 6 different colors,
plus give you a 360 degree animation of the final car so you can view it from all angles!

Download The Spider direct to your computer instantly!.




Our 3D pinewood derby car designs are the best on the market, guaranteed!



Car design plans include:

Cut-out printable car design template patterns
Building hints and shortcuts
Safety tips
Building tips, including do's and don'ts
Weight placement to maximize speed
Six painting schemes
cut-out decorative patterns
360 animations so you can see your car from all angles
Tools list
Embedded links for everything you need to build this car and make it fast.


Below are some sample pages from one of our car design plans: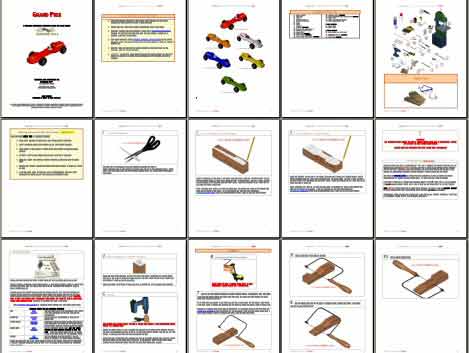 only $4.95
Pinewood Derby
Tips & Hints

If you have a bad wheel and you don't have time to replace it, Raise that Wheel so it doesn't touch the track. Since it doesn't touch the track, it won't have any negative affect on your car's speed.





Pinewood Derby
weights Tip

Tungsten weights are ideal for pinewood derby cars. Tungsten is about 1/3 smaller than a zinc piece with the same weight. Therefore, you can pack Tungsten weights in a smaller area to optimize your center of gravity to maximize inertia giving you greater speed at the finish gate.



Helping Pinewood Derby Racers

...for over 15 years.
Wow, we did it! Dad, I'll never forget this night.
- Steven Gargiulo
Trumbull, CT





I can't even put into words how excited, proud and happy my daughter was each time her car won. Worth every penny, plus more. Thank you SO MUCH Pinwood Pro!
- Nina from PA




FREE Derby Help

Designing Your Car

Building Your Car

Making Your Car Fast

Finishing Touches

Pinewood Pro...

Information

Blastcar for Boy Scouts
This will be my 3rd year ordering from you. This year I have an 8 year old son, a ten year old son, and my 12 year old daughter's young women group is also doing the pinewood derby. We are still undefeated – Last year we purchased your wheels and axles and won 1st place again, 2 years running!
- Kirk from UT
Spider Pinewood Derby Car Plan