Free Pinewood Derby Speed Hint

Out of time? Try our kits and Pre-Cut Blocks.
Want to know how to win your pinewood derby race?
You need the ALL winning secrets!
Perhaps you've built a car or two and had some success.
Now we show you how to win the speed trophy with proven, tested pinewood derby speed secrets that have made thousands of winners.
Start with our #1 best selling book for over 10 years,
Our book shines above anything else. Why?
Because, as an engineer, I give you my latest inventions that were tested on my own track to win district races.
You won't find these hints anywhere else.

You get over 40 speed secrets.
The book includes special sections on Making You Car Fast, such as a Fast Car Design, Fastest Wheels, Fastest Axles and Weight Secrets for Maximum Speed. These modifications are essential "must do" speed tricks...Most people who have built a few cars or have searched the internet know these tricks.
All of these secrets are essential speed modifications you need to make a competitive car.

The last section titled "PRO Race Winning Secrets" will put your car ahead of the pack. These will bring home the trophy.

You'll be amazed. I was, and so were our pinewood derby winners.

The following products, offered as a buyer's guide, were all designed by engineers to maximize speed and make you the next winner.
Speed Boosters Basic Speed Products...
* Quad Dual Block II - Precision drilled axle holes, with seven speed advantages, plus your car drives straight!
* Speed Axles and PRO Speed Axles - Polished, deburred axles, nickel plated with angled head to minimize contact with wheel. PRO speed Axles include secret Friction Reducing groove and Wobble Eliminator groove.
* BSA Lathed Wheels - Precision lathed with six speed advantages
* Graphite - Our special "racer's edge" blend of powdered graphite and sub-micron molybdenum disulphide ...acts like tiny ball bearings to reduce friction.
...or click
Order
to buy now
Race Winners! Super Speed Products...
* PRO Friction-Free Speed Wheels - Precision lathed tread, hubs, rim, reamed bore plus wheels and hubs are perma-coated with graphite-moly to give you the fastest BSA wheels on the market, guaranteed! This is a patented technique, only from Pinewood Pro
* PRO Friction-Free Super Speed Axles - Polished, deburred, angled head, nickel plated with wobble eliminator and friction reducer grooves. These axles are then perma-coated with graphite-moly. These are fastest axles on the market, guaranteed!
* NyOil - A thin film lubricant that tested better than graphite, and will less mess! NyOil should not be used on graphite coated axles.
* PRO Tools - to drill axle holes, cone wheel hubs, straighten axles and the NEW rail rider tool.
...or click
Order
to buy now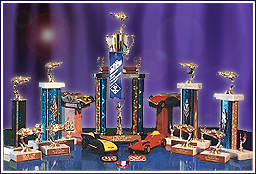 These are the trophies we won using our pine wood derby products.
You can win too!

FREE Derby Help

Designing Your Car

Building Your Car

Making Your Car Fast

Finishing Touches

Pinewood Pro...

Information
---



Pinewood Derby
Authority

...for over 10 years.



---







---



Designed by Engineers

Machined to Perfection
Best sellers