Pinewood derby car pictures and images
Just e-mail a picture or image of your pinewood derby car and
we will post it on our derby car picture gallery.
PRO Cars
Indy F1- BSA 2010

Best Indy Car
ScoutReach fundraiser Foxwoods April 2010
Pinewood Pro

Scorpio

Best In Show
ScoutReach fundraiser Foxwoods April 2010
Paul Perrotti

NATIONAL GUARD NASCAR #88

Best NASCAR
ScoutReach fundraiser Foxwoods April 2010
Pinewood Pro

Ghost Rider

Best In Show
Cabella's Scout Reach Fundraiser 2011
Paul Perrotti

Blades Runner - right

Best in Wind Tunnel
Cabella's ScoutReach Fundraiser 2011
Thomas Darmawan

Blades Runner - left

Most Creative
Cabella's ScoutReach Fundraiser 2011
Thomas Darmawan

Hartford Whalers

Best Design Scoutreach Fundraiser 2011
Paul Masino

Lightning Bolt

1st Place
Dodge Scout Reach Fundraiser 2011
Pinewood Pro
Show off your pinewood derby car building skills!
from Hollie Sarchet

Army Humvee - built from Pinewood Pro pinewood derby design plan
1st in den, 2nd place overall 2007
Pack 381
Matthew Podraza, tiger cub

Mike Thurber - won Den, Pack, and District championships.
Thanks, Pinewood Pro!
(PRO Speed Wheels, PRO Speed Axles)

Zinger 2007

Michael Hornburg's Pinewood Derby Car
Oshkosh, WI

Stealth Glider pinewood derby car

1st Place

Flying Tiger car

Bill Williams
1st place in Den, 3rd in pack

The Yellow Jacket

2004 Winner Best Derby Car Design Royal Ranger Commander Class Jim Lockhart, Fredonia Kansas

Red Zebra car picture

Josh
1st Place

Raptor Rocket Derby Car

Fastest car in Emerson, NJ !

Velocazipper pinewood derby

Sam Miller

Shimme car

Finn Duignan, Age 7
Pack 191
Long Island, NY

Pinewood Derby Hammerhead Shark

CJ Shina

Big Red Arrow Head

Geremia Thomas
1st Place

Rea LaRoche
Best Looking Car

Big Green Mean Machine

Guy Cesario III & IV

Black Firebird

won den class and second in pack
Ron and Tyler Wheeler

Green Bird

won the fastest new car in the open class
Ron and Tyler Wheeler

Blue Cobra

6th Place in District Race
Ron and Tyler Wheeler

Hole in One

Josh Patterson
1st Place

SpongeBob Square Pants

Paul and Channing Doi
2nd Place

The Magnum

Craig Piat
1st place Districts out of 175 cars!

Christopher's Crusher Car

Basking Ridge, NJ

NASCAR

Scott Gibson
Pack 89
Tampa, FL.

Red Streak

Kevin Carter
AWANA Grand Prix
Best Looking Car

Godzilla Starfighter

Jim and Nicholas Zale
Pack 76

Black Widow Spyder

from Brian@mchsi.com

Cobra

from Brian@mchsi.com

Blue Spider Derby Car

from Brian
Pinewood Derby In Iraq - First Ever!



Sgt. Rodney Arnold
Bioenvironmental Engineering
Balad Airbase, Iraq
Car Designs by Master Craftsman -
Geppetto Howland, Ohio Cub Pack 122
The Tiger

Pinewood Derby Car picture

Bear derby car

Pinewood Derby Car picture

Bathtub derby car

Pinewood Derby Car picture

Pinewood Derby Car picture

Pinewood Derby Car picture

Pinewood Derby Car picture
Girls Pinewood Derby Car Pictures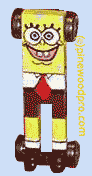 SpongeBob Square Pants
Haley Patterson, 2nd Place



Girlfriends Little Princess Derby Car
(Built from our Flash car design plan)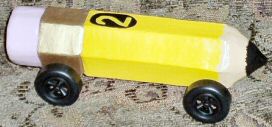 Faith's "Pencil Car"
1st Place - AWANA Best in Show


Pinewood Pro Car Design Plans
The cars below are from Pinewood Pro car design plans that show you how to build that car.

Each car design plan includes templates and step-by-step 3D images of each cut so you can't make a mistake.

We include also include design templates, show your car in 6 different paint schemes,
show weight placement, speed tips, mistakes to avoid, plus we even show you a 360 view
of your car so you can see it from all angles.

Click on a car to read more about that car design and download the plan to your PC in seconds!
Share with Friends!
Visit our
Picture Gallery
to see over 500 pictures of cars!
Link with Pinewood Pro!
Just copy and paste the following into your website

Pinewood Pro - Pinewood derby car design plans, polished axles, lathed wheels, Winning Secrets, free how-to guides and full line of speed products.

Or visit our links page for HTML code, Pinewood Pro logo image and get a backlink from us.
FREE Derby Help

Designing Your Car

Building Your Car

Making Your Car Fast

Finishing Touches

Pinewood Pro...

Information






Pinewood Derby
Authority

...for over 10 years.



Designed by Engineers

Machined to Perfection


Best sellers
Thanks for all your help to get first place in tiger cub class.
- Chris



Awesome!

Our son had THE fastest car out there...and he won the entire pinewood derby!
Will be back again next year!

Sarah from
Syracuse, UT



My grandson placed first and had the only car that won all his races that day. There's no doubt that the building hints in your book, the weight placement,wheels and axles made the difference. To see his smiles get bigger and bigger with each win, was well worth the effort. Thanks for the quality products and support.
- Cliff



Track Record!!!
David from Plano

-These axles are smoking hot! My son's car beat the track record by 0.2 seconds.



My son placed 1st place in the St. David's Cup.
- Wayne



Smoked everbody in our class!!

A big thanks to all the folks at Pinewood Pro!!
This was a great night, my car (daughters car) took first place in speed.
from
GRAND PRIX Winner



Thanks a ton for all of the tips and of course the Wheels and Axels! We beat cars that had taken district and region in Georgia! This was my last race with my two boys. Great way to end! Thanks again!
- David



FirstPlaceDerbyCar
from Utah
My son's car easily won 1st place w/ a decent margin over the next fastest car.
These tips, along w/ the purchased items were the secret to winning.



My son used your Tiger Claw design for his car. I read the tips on your website, and race day exceeded our expectations. Daniel's car won every race for his den, and qualified for the district races. At district, it seemed that his car got faster with every run, and he won first place! His car also won a trophy for most scout spirit. Thanks for your quality products and tips. We have memories that will last us our lifetimes.
- David



Slam dunk!
Kel from San Antonio
My 3 kids have over 10 trophies, most all of them are 1st place. I just go to Pinewood Pro and and It's a slam dunk!



We won every race we entered as well as the grand prize for the fastest car! Thanks for your help and interest.
- Debra



Slam dunk!
Kel from San Antonio
My 3 kids have over 10 trophies, most all of them are 1st place. I just go to Pinewood Pro and and It's a slam dunk!



1st year, 2nd Place Finish!
Mikey from Miami
My six year old was second in his Pack, being beat only by an older cub scout (the son of a "real" rocket scientist !



Never Lost a Race
Armothe from
Springfield, OH
My youngest never lost a race. He was beaming when he was handed a 1st place trophy in the Awana Grand Prix.