Fast Pinewood Derby Car Designs with Printable Templates
Step-by-step Car design plans with 3D images showing each step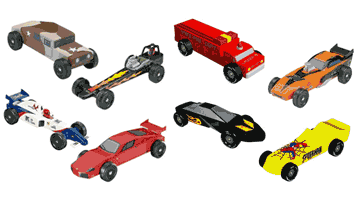 The best Pinewood Derby Car design plans, guaranteed!
Free pinewood derby template patterns are good but they don't tell you how to make the car! You need to know how to cut and shape the car, where to place the weights, building tips to save time and avoid mistakes, speed tips so to make your car fast, paint tips and color schemes, decorating ideas and design templates, etc. Free is nice, but look at all you get with a Pinewood Pro
INSTANT DOWNLOAD 3D Car Design Plan for $4.95.
Instant Download 3D Car Design Plan
Each car design plan includes cut-out templates (car patterns or blueprints), weight placement for optimal center of gravity, speed hints so your car is competitive and fast, building tips and tool tips to save you time and avoid mistakes when making your car, plus direct links to supplies and speed products to help you save time and make your car the fastest.

We show your car in 6 different painting schemes according to your car style. The painting schemes will show, for example, a more military-style for the Army Humvee, Tank or Truck, and more like a race car for our Grand Prix, Firebird, Camaro, Mustang, Spitfire, or more bling colors for girl's cars like the Sally car, Guitar or Nike Sneaker cars. Most of our car plans also include cut out templates for theme symbols or emblems, like the Lightning McQueen, Batmobile, Flash and SpongeBob cars.

Within each plan you will find links to show your car spinning 360 degrees so you can view it from all angles. Pinewood Pro car design plans are the only plans on the market with these cool features and that is why we consider them the best. Check out the cars in our Car Picture Gallery and read our product reviews. Many of our cars have won design awards.

Download your Car Design instantly...It's fast and easy!

Select a car, checkout, then click the DOWNLOAD link in your receipt and it will appear on your screen!
Pinewood Pro Winner's Circle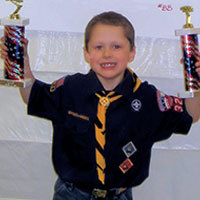 Joe, thanks for the tips. We moved from 35th last year to 2nd place this year. My son was glowing all day long! - Dave, IL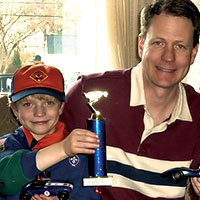 Joe, your PRO Tools are the best! The trophy and smile on my son's face says it all. - Joe, CT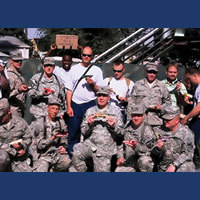 Joe, Thanks for all your help, Winning Secrets book and support for the Military here in Kabul, Afghanistan. The guys had a blast building and racing their pinewood derby cars. Start Your Engines! - N. RUTTER, MSGT, USAF
Camp Eggers, Kabul, Afghanistan
Previous
Next
PINEWOOD PRO
Winning Tips and Hints
Pinewood Derby
Tips & Hints
Before cutting your car, use a straight edge to draw lines down the center lengthwise and widthwise across your car. Then draw your car design template over these straight lines. The template and straight lines help guide your cutting on both sides of the car so everything is square.
Pinewood Derby
Wheels Tip
A lathed wheel means the wheel was turned at a high speed and "sanded" with a cutting tool. Lathed Wheels are perfectly tuned around the axis of rotation giving you the highest performance.
Pinewood Derby
Winning Hint
Winning Pinewood Derby Secrets contains all the tips you need to win your race. Updated annually with the latest tips and speed products, our book has proven results with 1000's of winners... but don't take our word for it! Read over 90 Customer Reviews and check out our Winners Gallery!