Winning Pinewood Derby Secrets
Building a fast, winning pinewood derby car
Winning Pinewood Derby Secrets
About the Author: Joe Gargiulo, Pinewood Pro founder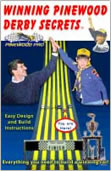 If you want to win your pinewood derby race, you need 2 things:

Winning Secrets
and
Winning Products

Now you can bring home the trophy with our
Time-Tested Winning Pinewood Derby Secrets and our
Track-Tested Speed Products that have produced 1000's
of winners for over 15 years!

You can also check out our guide on How To Build a Fast Car for free info!
Unleash the speed you need to win! You can do it with the best list of secret Pinewood Derby speed tips, guaranteed!
Winning Pinewood Derby Secrets shines above anything else. Why? Because, as an engineer, I give you my inventions that were tested on my own track to win Pack and District races. You won't find these hints anywhere else.
You get over 40 secret speed tips. The first section of my book contains the "must do" speed tricks...Most people who have built a few cars or have searched the internet know these tricks. You must do these basic things to have a competitive pine wood derby car.
The last section of my book titled "PRO Race Winning Secrets" will speed your car ahead of the pack. These tips will bring home the trophy.
You'll be amazed. I was, and so were our winners....but don't take our word for it,
read over 95 customer reviews!
Winning Secrets gives you everything you need to design and build a winning car...Clear, Concise, Fun, Proven...with CAD drawings, pictures and illustrations. It is updated annually so you have the latest.
Get all the secrets you need to win with the #1 best seller.
---
Highlighted Reviews
Derby Secrets It's a Winner
by
MNOMAN from Minnesota
5
/
5
stars
I helped my grandsons build their first cars with the help of Winning Pinewood Derby Secrets. All I can say is WOW!
So many little details make a huge difference to the speed of the car! They both won every heat they raced in except when they ran against each other.
Now it's off to the district races at Mall of America. The smiles on their faces are priceless holding their trophy's. I would have paid three times the cost of the book if I knew this was the end results, Thank You Pinewood Pro!!
Great Information for the Price
by
Pack 199 from Davis
5
/
5
stars
Easy read with useful embedded links for all Pinewood Derby needs. This book was very helpful for those just starting with the pinewood derby. I only wish I could afford all the author's products. They are tailor made for a specific application, which is what tools are all about. He does offer alternatives to his products first, all of which are extremely helpful in building a fast pinewood derby car. I highly recommend this book to all Cub Scout families as a reference.
Easy enough for a Mom to do!
by
Derby Mom from Claremont, CA
5
/
5
stars
This info was the best! We did as many steps as our pack would allow on how to build a fast pinewood derby car. We started on a Tuesday and finished Saturday morning before the race. This was our first year. My son only had this year before he moves on to boyscouts. I wanted it to be memorable for him. To say the least, it was so much more than that. WE WON 1ST PLACE. Just to see him light up, from all the hard work we did was worth every moment of lost sleep. The memories are worth the world. I couldn't have been happier with our results.
---
Winning Pinewood Derby Secrets
Table of Contents
About the author and Pinewood Pro
History of the Pinewood Derby
Step 1: Doing It Right!

Safety First
Playing by the Rules
Have Fun
Share the Joy
How this book is written




Before starting to build your pinewood derby car, think safety first and understand your race rules.

Step 2: Making Your Car Cool!

Designing your Car
Time saver hints
The 5-minute car design
Rough Cuts
Midway to Victory
Fine Tuning
Construction Tips
Glue, don't get gummed up!
Be square
Roller Derby
How to remove a "stuck" axle
Chip off the block




How to design your pinewood derby car. Tips and hints will help your build your car faster, while avoiding mistakes.

Step 3: Making Your Car Sharp!

Prep Makes Perfect
Painting and Detailing
The Finishing Touch




painting and detailing tips to make your car sharp and cool.

Step 4: Making Your Car Fast!!!

These are the essential speed tricks you need to have a competitive car... But to WIN, you'll need the PRO Race Winning Secrets (below)!




Speed Secrets for a Fast Car Design




Aerodynamics Myth - surprise! New thoughts on this one
Just Like Baking Bread - you'll be cookin'
Shapely Looks - shape your car for speed
Don't Get the Point - Avoid this mistake
Beware of the Paper Tiger! - Another common mistake to avoid
Don't Fly Into the Wind




Car design speed tips and mistakes to avoid that will slow your car.

Speed Secrets for the Fastest Wheels




Nobody's Perfect - fix your wheels or fry
Just like an ice cream cone
The Perfect Match
Optimal Spacing - or you'll have ABS brakes!
Wheel and Axle Alignment
Pack Light - another wheel trick




How to make your car wheels fast.

Speed Secrets for the Fastest Axles




Crookeder Than a Dog's Back
Two Black Eyes
Polish Makes Perfect
Turned and Polished BSA Axles
Slick Lubrication - make your wheels happy
A Slicker (and cleaner) Lubricant - this will surprise you
DON'T use this Lubricant! - it will slooow your car!




How to make your car axles fast.

Weight Secrets to Maximize Speed




The Skinny on Weight - Newton's First Law of Motion, you must get this right to win
Weight Placement: part 1 - Center of Mass, critical weight positioning
Weight Placement: Part 2 - getting jiggy with it, another mistake to avoid
Weight Placement: Part 3 - hold the line, balancing hint
Weight - Don't Wait! - You need to know this!




Lots of weight secrets to make your car as fast as it can be.

Lube Secrets to Maximize Speed




Slick Lubrication
A Slicker (and cleaner) lubricant
DON'T use this lubricant!




All lubricants are not equal. Here are the alternatives and one to avoid.

PRO Race Winning Secrets - These will make you a winner!




PRO Secret #1: Nothing is Better
PRO Secret #2: Max Head Room
PRO Secret #3: Triple Threat
PRO Secret #4: Heavy Construction
PRO Secret #5: Hub Rub - the HUB!
PRO Secret #6: Hub Rub - the RUB!
PRO Secret #7: Basis for Spaces
PRO Secret #8: The Right Angles
PRO Secret #9: Cap it Off
PRO Secret #10: Don't Get Railroaded
PRO Secret #11: Simulation Stimulation
PRO Secret #12: Be Boring!
PRO Secret #13: Set and Match
PRO Secret #14: Light as a Feather
PRO Secret #15: Slim Down
PRO Secret #16: Starting Gate Placement
PRO Secret #17: PRO Super Speed Axles... only from Pinewood Pro
PRO Secret #18: PRO graphite-coated black lightening Axles...only from Pinewood Pro
PRO Secret #19: PRO graphite-coated Speed Wheels...only from Pinewood Pro




Our axles, wheels, lube, weight and precision tuning secrets will make you a contender...

These race winning secrets will make you a winner.

Step 5: Step Up to the Winner's Circle!

We did, and you can too!




Last minute tune ups and hints.
You can build a winner, with the right Winning Pinewood Derby Secrets!
---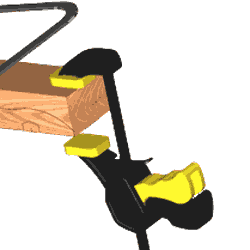 clamp your block to secure it before sawing!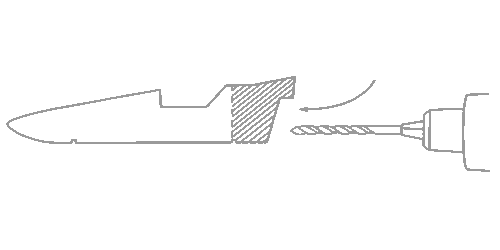 We start with techniques to build your car...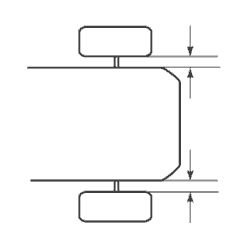 Show you things like optimal wheel spacing so your axles don't bind and your wheels don't wobble.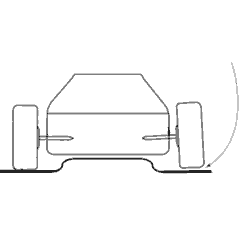 Speed secrets to reduce friction...
Critical axle and wheel preparations to win races...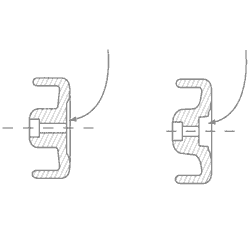 We show you how to build your car with all the latest race winning secrets and products, updated annually.
To make a fast, winning car you need the Winning Secrets AND Winning Speed Products. Yes, you can win a race without the best speed products on the market, but that depends on your competition! Chances are, some racers know the Secrets and have created or purchased the speed products needed to make a high performance car.

We have all the PRO tools if you want to do-it-yourself, and we have all the PRO Speed Products that have been track-tested to prove they are the fastest.

To win your race, pick (or design) the best Speed Products that are appropriate for your race. That means, you need to read your race rules and select the most appropriate products for your race. How do you know which products are "appropriate"? Reference your race rules, and ask your Race Manager if you have any questions, becasue EVERY race is different.

Our PRO Products fall into the categories below. I summarized the category and highlight our highest performance PRO Speed Products, but you should reference all the products in each category to be sure our PRO product are appropriate for your race.
Category
PRO Speed Product
Speed Notes
Lubricants

PRO Graphite

Pinewood PRO Graphite is a special blend of dry powdered graphite with sub-micron molybdenum disulfide additive. It substantially decreases friction!

Track tests show a 17% to 20% speed increase, depending on the axles being used.
Axles

PRO Super Speed,
Graphite-Coated Axles

We recommend our PRO Super Speed grooved and graphite-coated axles, which out performed every axle we tested.

Our track tests showed a 16.7% speed increase over stock BSA axles.

We also offer BSA grooved and graphite-coated axles.
Wheels

PRO BSA Ultra-Lite,
Graphite-Coated Wheels

We recommend our PRO BSA Ultra-Lite graphite-coated wheels, which out performed every BSA wheel we tested.

Our track tests showed a 23.8% speed increase over stock BSA wheels.

We also offer lightly lathed BSA wheels.
Tools


PRO tools

PRO tools do everything from drilling axle holes so your car rolls straight, to polishing the inside of your wheel bore for that little extra speed, to rail rider tools for a technical advantage.

We even have handy tools for gapping your wheels and an Axle Puller to remove your axles without damaging your wheels.
Blocks
Drilled blocks insure that your car rolls straight and also offers a raised wheel option to increase speed.
Pre-Built Cars
If you can not build your own car, our fully built PRO pinewood derby cars are fully built and tested for speed!

These cars are precision tuned, track tested and ready to race.
Pinewood Derby
Tips & Hints

Lead is denser than zinc but lead is toxic, so we do not recommend handling it. Use non-toxic weights like zinc or tungsten.





Pinewood Derby
lubes Tip

Our PRO Graphite, with molybdenum disulfide, is a proven winner. Our Track Tests show an average speed increase of 17%.




Pinewood Derby
painting Hint

When painting with children, it is better to use a paint brush rather than spray paint because spray paint can cause vapors. If the child is spray painting, be sure to use a breathing mask and be in an open area.



Helping Pinewood Derby Racers

...for over 15 years.
This was our first year racing in the Pinewood Derby. We came out in second place. Thanks for all your help, without your book, we would not have won!! Look at that big smile.
- Eli from TN





We came in fourth place; very respectable, given it was our first time. Thanks very much for helping us overcome our building weaknesses with great products.
- Doug and Taiki from VA





I can't describe how happy my Son was to win! I'm a single Mom and didn't know how to build a car. I was so happy to find your amazing site. I'm beaming with happiness for my son.
- Miss M from MO





My daughter won 1st place, and my son won 3rd place. It was very fun and hope to do again next year. Thanks for your great information,
- Barry from MI





Thank you for all of the information. We had fun making the car! We're going on to the Regionals, as our car to 1st place in our den!
- Lou from IN





With the help of your block, axes, wheels, and lube we went from last place 3 years running to 1st place overall. Thanks!

- Roger




I just read your Winning Pinewood Derby Secrets book and I can not wait to apply the information. Thanks for the help!
- Tully from TX





Keirsten's car won first place in her troop and grand champion out of all the other troops that participated.
- Melissa





My son placed 1st place in the St. David's Cup.
- Wayne





Thank you very much! I've always had very good luck with your products and I will continue to purchase everything I need from you!
- Jenna from AL





Hey Joe- Just wanted to pass on the good news- and a few nice pix. We ended up in 2nd place out of 63 cars racing. Not too bad, and we'll be at district in a few weeks.
- David from IL




FREE Derby Help

Designing Your Car

Building Your Car

Making Your Car Fast

Finishing Touches

Pinewood Pro...

Information

Blastcar for Boy Scouts
One of my girls won the "girls fav" car which was picked by all the girl scouts as their fav. Thanks
- Stephanie

Everything was great! It was my son's first Kubcar race...approx 60 cars, and he took 1st place! He was so excited... Thanks again. Your Winning Pinewood Derby Secrets book really helped!
- Glenn from Toronto

After 4 years of not winning, we finally did it!! Your book truly worked!!
- Wayne from CA

.

Jonah's car won 1st place in his Den, first place in the Pack and I couldn't believe it but he also won for Best looking car!
- Thomas from FL

I have purchased from you for two consecutive years and am an extremely satisfied customer. The order arrived promptly and I am very pleased with your products and service. Thank you so much!
- Trey from SC

This was my 7 year old son's first Pinewood Derby and I would have paid 100 times the price just to see the expression on his face when he took first! Your information was invaluable!
Fred & Vincent

My son won 1st place for the fastest car. Thank you for all of your tips and tricks they were a big help.
- Rob

Thanks for offering such great products to beginners. My son finished 1st in his pack, 2nd in his district, and 6th overall for his first year. Will definitely order from you again.
- Matthew from TN

We got a "Most Realistic" for the Humvee and an 4th place with the "wedge." You would have thought my seven-year-old twin grandsons had won college scholarships! I was a hero. Thanks, again. I'll probably be back next year, Lord willing.
- Mike from KS

This was my 7-year-old's first Pinewood Derby and he won 1st! We followed your Winning Pinewood Derby Secrets and his car smoked other the cars by 4-5 car lengths each race. Thanks again.
- John

We placed an amazing 2nd out of 28 cars. We only lost to first place by half an inch. Our car ran consistently all night. We won 2nd place overall! You will be our first stop next year!
- John

My son won the entire event, even against the older scouts. Thanks
- Rodd
Winning Pinewood Derby Secrets