Pinewood Derby Videos
New "How-to" videos show how to use our PRO Tools. Also check out our Car Design video, fun derby race video, our exclusive interview with Donn Murphy, vintage cars, and more!
We even have a a cool video that is set to the Beach Boys' Little Deuce Coupe and our exclusive interview with Donn Murphy who tells you about the history of pinewood derby and how his Dad started it all in 1953.
How-to use the PRO Driller Tool to get five speed advantages
This one tool will make your axles perfectly straight, or angled 2.5 degrees, or create an extended wheelbase car, or raise a wheel, or create a rail rider. These are all proven speed tips to help you make the fastest pinewood derby car.
How-to use the PRO Wheel Bore Polishing kit
Just like polishing your axles, polish your wheel bore to reduce friction to gain that extra race-winning speed.
How-to use the PRO Axle Guide Tool
Straight axles win races. Crooked axles make your car steer crooked, losing valuable speed. This easy to use PRO Axle Guide helps you easily inert axles straight into the axle slot and get perfect wheel spacing with this one piece tool. Made of sturdy plastic so it won't scratch your axles.
How-to use the PRO Axle Remover-Inserter Tool
Easily insert and remove your axles without damaging your wheels or axles.
How-to use the PRO Wheel Spacer Tool
Get perfect wheel spacing, a critical speed adjustment, with the PRO Wheel Spacer
Race LEGO® Derby cars!
Kids love LEGO's. Why not race LEGO Derby cars just like pinewood derby racing? Kids have a blast building cars and racing!
LEGO derby car racing is a fun activity for any youth organization. To race LEGO cars down a pinewood derby track just use our exclusive PRO Brick wheels and chassis designed by Pinewood Pro.

Pinewood Pro used their pinewood derby racing knowledge to design FAST LEGO compatible parts designed for SPEED.

Our PRO Brick assemblies include ultra light weight PRO Brick Wheels, nickel-plated PRO Brick Axles and a LEGO compatible PRO Chassis so you can snap in any LEGO part to make a cool LEGO Derby race car.

To add weight to your car, just snap in our exclusive Zinc Brick Weight. Kids unknowingly learn physics by playing and experimenting! For example, they start figuring out that more weight equals more inertia so their car is faster at the finish line. The experienced scouts know to move the center of gravity back to gain even more speed.

Pinewood Pro's plastic PRO Derby Track can be setup within a half our and doesn't require any tools!

LEGO Derby car racing using Pinewood Pro's PRO Brick Car Chassis

Pinewood Derby video - fast, fun, winning races
Winning Pinewood Derby races - fast, fun and entertaining video clips!

Remember this? "Well I'm not braggin' so don't put me down, but I've got the fastest set of wheels in town!"
I took these videos at multiple Cub Scout Pack races in the area, picked some of the emotional clips (there were many more!) and then set the video to music...lot's of Cub Scout emotion and derby fun, exactly what pinewood derby is about.

This is a great video to share with your Pack when giving out their kits or on race night.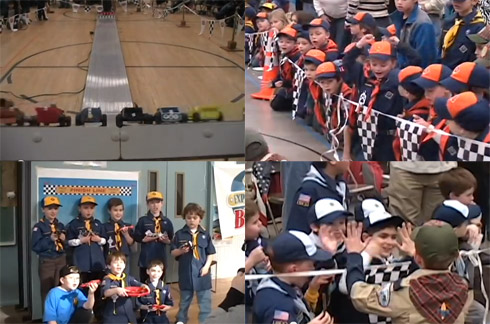 Pinewood Derby Video - Donn Murphy gives a brief history of pinewood derby

Who started the pinewood derby?

Donn Murphy, son of the inventor, talks about the history of pinewood derby in this exclusive Pinewood Pro interview. Donn talks about how his father invented the pinewood derby in 1953 citing excerpts from his father's book, PINEWOOD! The Story of the Pinewood Derby, while Joe Gargiulo talks about his book, Winning Pinewood Derby Secrets. Video features many pictures from the very first derby race in 1953.

For any scout or pinewood derby historians, I would strongly recommend reading a Pinewood Pro's brief history of the pinewood derby and also picking up a copy of Don Murphy's book that gives full details, complete with pictures from the original race, original drawings, rules, etc. A great resource for any Cub Scout Pack.


Pinewood Derby Video - Donn Murphy interview - history of pinewood derby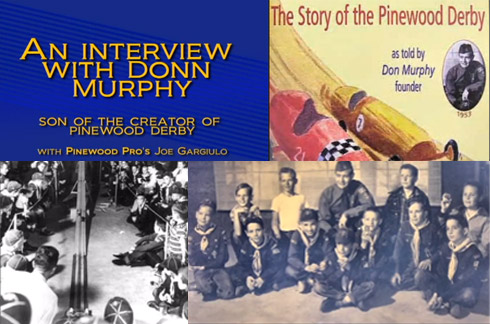 Pinewood Derby Video - winning vintage cars 1955
Pinewood Pro interviews one of the first pinewood derby car builders in the country.
Craig built two cars one in 1955 the first year of BSA Cub Scout pinewood derby racing and the second car in 1956, the second year of BSA Cub Scout racing. Craig speaks about his cars while Joe from Pinewood Pro speaks about the start of pinewood derby racing, which began in 1953 but wasn't introduced by BSA until late 1954 in the Oct issue of Boys Life magazine.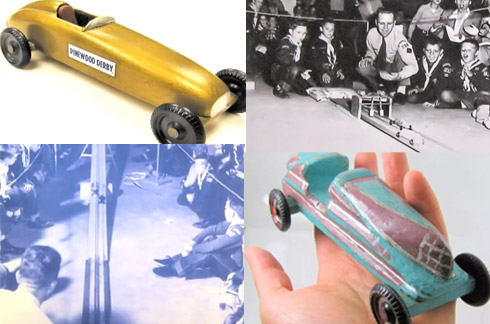 PINEWOOD PRO
Winning Tips and Hints
Pinewood Derby
Tips & Hints
The best part of pinewood derby is designing a unique, cool car that you can call your own. Don't worry about aerodynamics because it is almost insignificant. We identify dozens of other speed tips in Winning Pinewood Derby Secrets that rank far above aerodynamics.
Pinewood Derby
Wheels Tip
If you have a bad wheel and you don't have time to replace it, Raise that Wheel so it doesn't touch the track. Since it doesn't touch the track, it won't have any negative affect on your car's speed.
Pinewood Derby
Winning Hint
Winning Pinewood Derby Secrets contains all the tips you need to win your race. Updated annually with the latest tips and speed products, our book has proven results with 1000's of winners... but don't take our word for it! Read over 90 Customer Reviews and check out our Winners Gallery!